JBC#4: Tantangan Komunikasi Lintas Budaya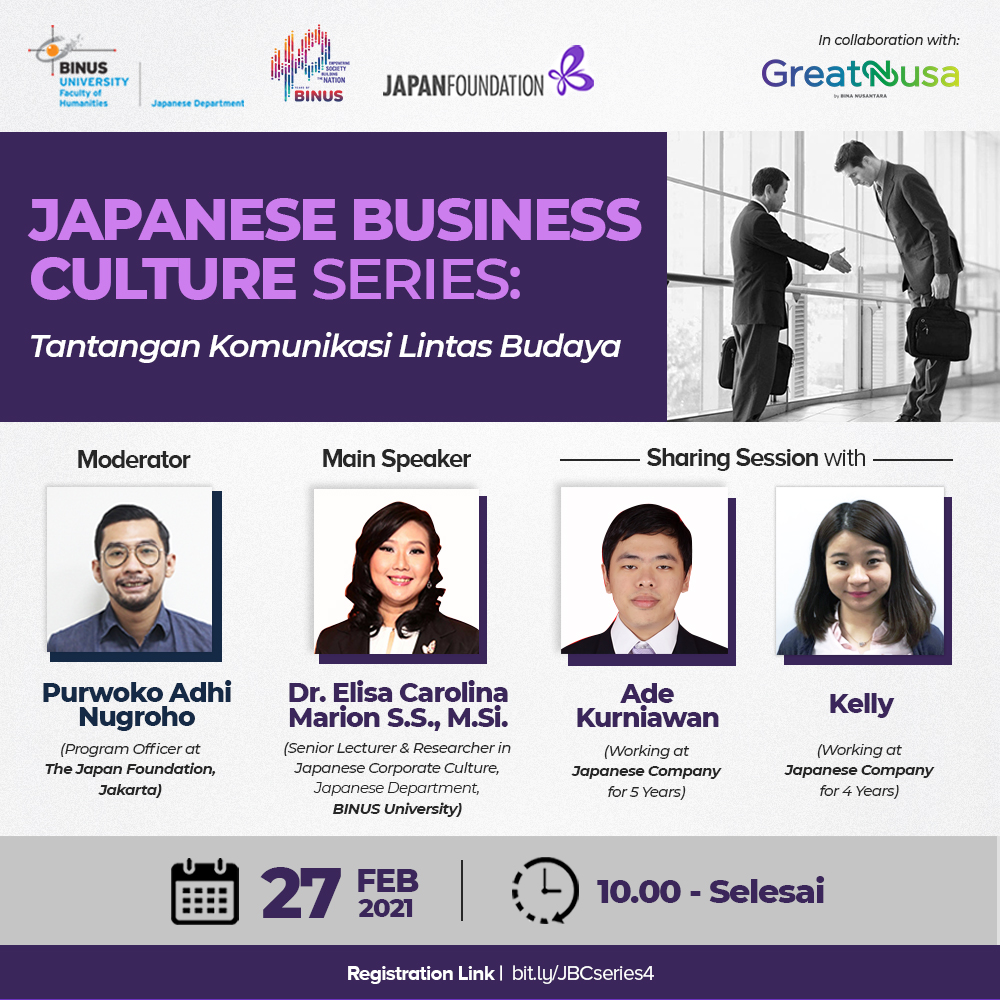 Indonesia dan Jepang tentunya memiliki ciri khas budaya masing-masing. Sehingga ketika orang-orang yang bekerja dalam satu perusahaan memiliki bahasa dan budaya yang berbeda cenderung akan terjadi konflik. Karena itulah dibutuhkan sebuah pemahaman yang menyeluruh mengenai bahasa dan budaya Jepang untuk dapat memahami etos kerja bangsa Jepang.  Mari bergabung dalam Japanese Busines Culture Talk bersama dengan Dr. Elisa Carolina Marion, seorang ahli budaya Bisnis Jepang yang akan membawakan sebuah pembicaraan yang menarik dengan tema "Tantangan Komunikasi Lintas Budaya". Selain itu juga akan hadir dua praktisi yaitu Ade dan Kelly dalam diskusi kali ini. Mari bergabung dalam acara kami untuk bertemu dan bertanya kepada para ahli dibidang budaya bisnis jepang. Sampai Jumpa!
Main Speaker:
Dr. Elisa Carolina Marion (Lecturer of Japanese Literature BINUS University)
Moderator:
Purwoko Adhi Nugroho (Program Officer at The Japan Foundation, Jakarta)
Sharing Session With:
Ade Kurniawan (Working at Japanese Company for 5 years) Kelly (Working at Japanese Company for 4 years)
Jadwal:
Sabtu, 27 Februari 2021 Pkl 10:00~ Selesai. Bagi Anda yang masih tertarik untuk mengikuti acara seminar pertama Japanese Business Culture Series bisa mendaftar di website GreatNusa langsung dengan mengikuti langkah-langkah berikut: 1. Akses website GreatNusa di www.greatnusa.com 2. Log in dengan memasukkan email dan password yang Anda pakai untuk membuat akun GreatNusa. *Bagi Anda yang merupakan BINUSIAN bisa memasukkan email dan password akun Office365 BINUS. 3. Di Home page GreatNusa, temukan nama acara Japanese Business Culture Series: Tantangan Komunikasi Lintas Budaya pada section Webinars. 4.Daftarkan diri Anda dengan klik tombol Enrol Me.