Visual Communication Design (@Malang)
Program Studi Desain Komunikasi Visual menyiapkan generasi muda kreatif berwawasan global dengan mengusung nilai-nilai local berbasis teknologi komunikasi yang mampu menciptakan karya seni visual dan berkontribusi bagi industry kreatif, masyarakat, dan Indonesia.
VISI:
Unggul sebagai Program Studi Desain Komunikasi Visual dengan mengantarkan desainer-desainer yang siap menantang dunia global yang memiliki nilai-nilai lokal khas Jawa Timur dan Indonesia bagian Timur dengan memaksimalkan teknologi informasi.
MISI:
Mendidik mahasiswa agar mampu memberikan solusi komunikasi visual berdasarkan penelitian kreatif, pengetahuan lokal & global, dan teknologi informasi, serta mampu mengartikulasikan nilai-nilai lokal khas Jawa Timur dan Indonesia bagian Timur untuk mampu bersaing di tingkat global.
Meningkatkan kualitas hidup bangsa Indonesia dan masyarakat internasional melalui desain yang baik.
Merancang produk kreatif dan melaksanakan pelayanan secara profesional di bidang desain komunikasi visual dengan menekankan pada penerapan pengetahuan kepada masyarakat.
Mendidik mahasiswa dengan rasa etika dan kewirausahaan yang kuat sebagai kontribusi kepada masyarakat umum.
Bekerja sama dengan sejumlah lembaga terkait baik di dalam dan luar negeri untuk menjaga perkembangan ilmu yang diajarkan.
PROGRAM 2+1+1
Mahasiswa Program Studi Desain Komunikasi Visual Kampus Kota Malang memiliki kesempatan berkuliah selama 2 tahun di Kota Malang, 1 tahun peminatan keilmuan (Streaming) Desain Komunikasi Visual (di Kota Malang atau Greater Jakarta), dan 1 tahun Enrichment Program.
Streaming
Waktu Pelaksanaan                 : Semester 4 dan 5
Pilihan Lokasi                             : Malang dan Greater Jakarta
Streaming Illustration
Dalam streaming ini mahasiswa dilengkapi dengan kemampuan untuk menyelesaikan permasalahan desain dengan pendekatan produksi ilustrasi visual untuk keperluan industri hiburan, UMKM, HaKI, dan Ekonomi Kreatif. Mahasiswa melakukan eksplorasi gaya gambar, market, Intellectual Property, desain visual, branding desainer dan pengembangan keunikan desainer untuk menciptakan Illustrator profesional yang mampu bersaing secara global dengan mengusung nilai-nilai lokal
Lokasi                            : Malang
Prospek Karir             : Illustrator, Comic Artist, Digital Artist, Visual Content Creator, Concept Artist, Creative Consultant, Branding and Mascot, Game Developer Artist, In-House Designer, Intellectual Property Creator, Toys Industry, Author.
Streaming New Media
Dalam Streaming ini Mahasiswa dibekali dengan kemampuan unik di bidang teknologi informasi yang dapat mendukung pengembangan keilmuan Desain Komunikasi Visual menjadi Digital Design, Interaktif dan Media Cetak. Mahasiswa dapat mengaplikasikan ilmunya dalam berbagai studi kasus seperti branding, desain informasi, desain untuk umum, fotografi, ilustrasi, tipografi dan desain web menjadi interaktif dinamis melalui media digital dan cetak.
Lokasi                            : Greater Jakarta
Prospek Karir             : Brand Designer, Web Design and Development, Game, Design Visualisation, Publication Design, Illustrator, Graphic Design Studio, Corporate & Retail Industry, Government Institutions, In-house Designer, Photographer, Television and Broadcast Studio
Streaming Creative Advertising
Dalam streaming ini Program Studi memberikan pendidikan kreatif yang baik bagi para insan kreatif masa depan di industri periklanan, memungkinkan mereka untuk bekerja sama dalam tim kreatif untuk menghasilkan desain visual kontemporer terbaik untuk periklanan. Pada Streaming ini mahasiswa akan mempelajari bagaimana karya seni desain komunikasi visual diciptakan, dan juga tentang rumusan ide-ide kreatif yang dibutuhkan dalam iklan yang didasarkan pada teori desain dan berperspektif sejarah.
Lokasi                            : Greater Jakarta
Prospek Karir             : Art Director, Graphic Designer, Commercial Photographer, Digital Imaging Artist, Illustrator, Videographer, Creative Entrepreneurs
Streaming Animation
Di dalam streaming ini mahasiswa dilengkapi dengan pengetahuan dan kemampuan untuk menyelesaikan permasalahan yang berhubungan dengan kreativitas, estetika visual, teknologi dan model bisnis untuk mendukung perkembangan Industri 3D Computer Graphic. Mahasiswa dilengkapi dengan pengetahuan dan kemampuan terkini dalam bidang Teknologi 3D Animation Computer Graphic untuk menjawab kebutuhan industry kreatif nasional dan Internasional
Lokasi                            : Greater Jakarta
Prospek Karir             : Broadcast Television, Film Production, Games Industries, Animation Studio, Production House, 3D Motion Artist (Animator/Motion Graphic), 3D Visualizer Artist (Modeller/Layout/Shading,Lighting & Rendering), Visual FX Artist (Compositor/Rotoscoping/Particle), Storyboard artist, Character Design Artist, Animation Produser
Enrichment Program
Waktu Pelaksanaan                 : Semester 6 dan 7
Internship
Mahasiswa memiliki kesempatan untuk magang di semester 6 dan semester 7. Mahasiswa dapat melakukan magang dengan minimal pelaksanaan 4 bulan di perusahaan partner BINUS University
Business Start Up
Mahasiswa memiliki kesempatan untuk memulai bisnis pribadinya pada semester 7. Mahasiswa akan mendapatkan mentor dari Program Studi dan Industri yang terkait dengan bidang kewirausahaannya.
Community Development
Mahasiswa memiliki kesempatan untuk mengaplikasikan keilmuannya ke masyarakat umum. Mahasiswa dapat mengambil program ini dalam semester 7
Research
Mahasiswa memiliki kesempatan untuk mengembangkan keilmuannya berkolaborasi dengan dosen pada semester 7 dalam bentuk kolaborasi penelitian dan publikasi.
Study Abroad
Dalam semester 7 mahasiswa memiliki kesempatan untuk berkuliah di universitas partner BINUS University di luar negeri.
DESAIN KURIKULUM
SEMESTER 1
Group
Course
SCU
MKK
DSGN6748
Material and Colors in Visual Design
4
MKK
DSGN6749
Drawing for Design
4
MKK
DSGN6750
Computer Graphic I**
4
MKK
DSGN6751
Eastern Art Review
2
MKK
DSGN6421
Western Art Review*
2
MKK
ARTS6018
Aesthetics
2
English Courses I
MKB
ENGL6198
English in Focus
2
MKB
ENGL6199
English for Business Presentation
2
Cumulative SCU
20
*) Delivery in English;
**) Global Learning System Course;  
SEMESTER 2
Group
Course
SCU
MPK
CHAR6030
Character Building: Pancasila
2
MKK
DSGN6816
Visual Communication Design I
4
MKK
DSGN6817
Computer Graphic II **
4
MKK
DSGN6818
Typography*
4
MKB
ENTR6519
Entrepreneurship I : Ideation
2
MKB
LANG6089
Indonesian Language
2
English Courses II
MKB
ENGL6201
English Savvy
2
MKB
ENGL6200
English for Written Business Communication
2
Total SCU
20
Cumulative SCU
40
For English Courses II, student with score Binus English Proficiency Test less than 500 will take English Savvy, and student with score test greater than or equal to 500 will take English for Written Business Communication.
*) Delivery in English;
**) Global Learning System Course;  
SEMESTER 3
Group
Course
SCU
MPK
CHAR6031
Character Building: Kewarganegaraan
2
MKK
DSGN6819
Visual Communication Design II*
4
MKK
DSGN6820
Design Methods
4
MKK
DSGN6821
Illustration Design***
4
MKK
DSGN6822
Photography**
4
MKK
DSGN6431
Visual Communication Design Review
2
Total SCU
20
Cumulative SCU
60
*) Delivery in English;
**) Global Learning System Course;  
***) Entrepreneurship Embedded
SEMESTER 4
Group
Course
SCU
MPK
CHAR6032
Character Building: Agama
2
MKK
DSGN6824
Visual Making Project***
4
MKK
DSGNXXXX
Creative Design Workshop*&**
4
Stream : Illustration
MKB
DSGNXXXX
Character Design
6
MKB
DSGN6829
Concept Art
6
Stream : New Media****
MKB
DSGN6742
Advanced Typography*&**
4
MKB
DSGN6743
Digital Graphic Reproduction**
4
MKB
MDIA6056
New Media*&**
4
Stream : Creative Advertising****
MKB
MDIA6046
Audio Visual (Pre Production and Production)**
4
MKB
MKTG6293
Marketing and Consumer Behavior*&**
2
MKB
DSGN6671
Creative Writings for Commercial
4
MKB
DSGN6019
Advertising Media*&**
2
Stream : Animation****
MKB
DSGN6682
Fundamental Drawing for Animation*
4
MKB
FILM6047
Scriptwriting**
4
MKB
FILM6027
Film Theories*
4
Minor Program
12
Free Electives****
12
Total SCU
22
Cumulative SCU
82
*) Delivery in English;
**) Global Learning System Course;  
***) Entrepreneurship Embedded
****) Conducted for student mobility program in Jakarta
SEMESTER 5
Group
Course
SCU
MKK
DSGNXXXX
Visual Communication Design III*
4
MKB
ENTR6521
Entrepreneurship : Market Validation
2
MKK
DSGNXXXX
Design and Digital Media*&**
4
Stream : Illustration
MKB
DSGN6828
Intellectual Property Design**
4
MKB
DSGN6831
Sequential Illustration**
4
Stream : New Media****
MKB
DSGN6744
3D Art and Interaction
4
MKB
FILM6078
New Media Production**
4
Stream : Creative Advertising****
MKB
DSGN6668
Photography for Commercial Project**
4
MKB
FILM6111
Cinematography*
4
Stream : Animation****
MKB
DSGN6683
Visual Storytelling**
4
MKB
DSGN6685
3D Art & Form**
4
Minor Program
8
Free Electives****
8
Total SCU
18
Cumulative SCU
100
*) Delivery in English;
**) Global Learning System Course;  
****) Conducted for student mobility program in Jakarta
SEMESTER 6
Group
Course
SCU
MKB
Enrichment Program I
20
Total SCU
20
Cumulative SCU
120
SEMESTER 7
Group
Course
SCU
MKB
Enrichment Program II
20
Total SCU
20
Cumulative SCU
140
SEMESTER 8
Group
Course
SCU
MKK
DSGN6451
Thesis
6
Total SCU
146
Cumulative SCU
146
Notes : (Information for group table)
MKK = Mata kuliah Keilmuan & Ketrampilan (Science and Skill Course)     
MKB = Mata kuliah Keahlian Berkarya (Creative Expertise Course)
MPK = Mata kuliah Pengembangan Kepribadian (Personality Development Course)
MPB = Mata kuliah Perilaku Berkarya (Creative Behavior Course)
MBB = Mata kuliah Berkehidupan Bermasyarakat (Social Living Course)
---
---
---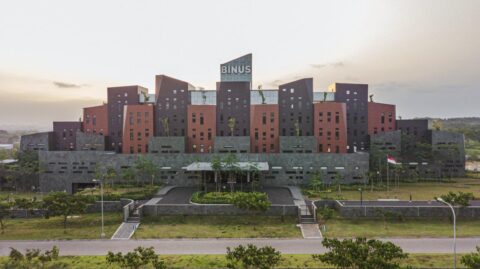 BINUS @Malang