Product Design Engineering (International Program)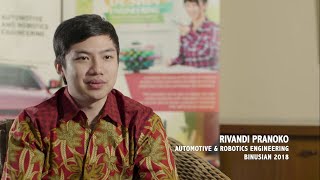 ---
Introduction
Product Design Engineering (PDE) provides stakeholders with the ultimate product design engineering's prioritizing outcome toward the human-centered and the sustainability of the product within realistic constraint. The priorities are aligned with the local wisdom of Industrial Revolution 4.0 (IR 4.0) in Indonesia, recognized as Making Indonesia 4.0. PDE in Binus Aso School Engineering (BASE). It integrates the program Making Indonesia 4.0 with Japanese wisdom of Society 5.0. In wider perspective, PDE in BASE generates holistic approach of Breakthrough, Agility, Sustainability and Empowerment.
Catalog 2015 (PDF); Catalog 2016 (PDF); Catalog 2017 (PDF); Catalog 2018 (PDF); Catalog 2019 (PDF); Catalog 2020 (PDF)
Program Objective
Within a few years of graduation, Product Design Engineering graduates are expected to be able to:
Utilize appropriate product design engineering methods and tools to come up with the product design that complies with human-centered design and sustainability approaches to cater stakeholders, known as industries and communities.
Optimize the product design that comply Indonesia local wisdom within product design engineering disciplines through assorted range from the material selection, design process, production process and the marketing stage until the ultimate stage arriving at the users' premises.
Promote the product design within Indonesia local wisdom as the escalating trigger to global prestige with the pride of Indonesia local wisdom product.
Continual learning and application of product design output that comply with megatrends of Industrial Revolution 4.0 within physical, digital and biology.
Student Outcomes
At the end of the program, graduates will have these following competencies:
An ability to apply mathematics, science, and engineering.
An ability to design and conduct experiments, as well as to analyze and interpret data.
An ability to design a system, component, or process to meet desired needs within realistic constraints such as economic, environmental, social, political, ethical, health and safety, manufacturability, and sustainability.
An ability to identify, formulate, and solve industrial engineering problems.
An ability to function on multidisciplinary teams.
An understanding of professional and ethical responsibility
An ability to communicate effectively.
The broad education necessary to understand impact of industrial engineering solutions in a global, economic, environmental, and societal context
A recognition of the need for, and an ability to engage in life-long learning.
A knowledge of contemporary issues.
An ability to use the techniques, skills, and modern engineering tools necessary for industrial engineering practice.
---
Prospective Career
Industrial Design Engineer
Automotive and Parts Designer
Product Design Engineering Consultant
Industrial Engineer in Manufacturing and Service Industries
Entrepreneur
Simulation Analyst
---
---
Alam Sutera