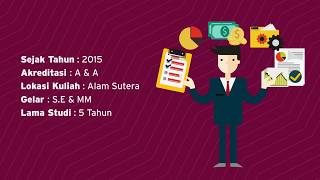 ---
Master of Management is designed for early-career managers and professionals, and also fresh graduates, from various disciplines who aspire to learn competitive strategies for business.
Like most management programs, the curriculum of Master of management covers a broad and comprehensive overview of topics in business and management. Unlike other management programs, information technology is strongly emphasized and linked to various subjects in the curriculum. The role of information technology in business can not be dismissed in the Digital Economy.
Each subject taught in this program will contribute to a totality of understanding of management theory, and how that theory is specifically applied to everyday practice, in the rough-and-tumble world of real business.
The BBS Master of Management Program is designed to:
Enhance the understanding and acquisition of skills required to be an effective manager in industries such as consumer goods, manufacturing, technology, and services;
Understand most current conceptual and analytical developments in management practice essential to the contemporary manager;
Gain insights from managerial and top management viewpoints for developing and implementing sustainable customer values; and
Align and balance different (and often conflicting) needs and demands of various stakeholders: shareholders, workers, the community, the media, governmental authorities and the general public.


Vision

To be an internationally recognized business school in the continuous pursuit of innovation in education.

Mission

We are committed to implement innovative mindset in business education and research to develop professionals who can meet the challenges of industries and society.
Benefits
Curriculum : Well balanced between theory and practice, relevant to Indonesia context
Case Studies : Harvard, Stanford, INSEAD and other prominent universities
Awarded byMURI for accomplishing 100+ local case study within 4 years.
C-level seminar from prominent companies: CEO, CFO, CMO
Trial Classes available.
Global immersion programmers (Voluntary).
Member of EFMD – European Foundation of Management Development
"A" Accreditation Based on the decree from Badan Akreditasi Nasional – Perguruan Tinggi
(BAN-PT) No: 22/BAN-PT/Ak-IX/S2/X/2011, October 28th, 2011, Magister Management Program.
Good Networking with Industry and alumni support
Seminars by visiting foreign professors
On-site class (MM in Young Professional Business Management)
Program Concentration
Critical Thinking
Each student should be able to critically identify problems/issues in management, create innovative solutions, and develop recommendations and implementation plans.
Leadership
Each student should be able to develop the required understandings and prioritize suitable leadership concepts.
Communications
Each student should be able to build effective communication skills using appropriate ICT tools.
Ethics
Each student should be able to propose responsible decision with enhanced sensitivity to various stakeholders which are affected by management decision.
---
---
---
Alam Sutera