Management – Business Management (Online Learning)
Introduction
Business Management program teaches basic knowledge of economic and management areas such as Micro and Macroeconomics, Marketing, Global Human Resources, Finance and Accounting, and Operations.  This curriculum provides opportunity and develop student's analytical skill with knowledge include Retail and Merchandising, International Business, E- Corporate, Entrepreneurship and Managing Innovation. Business Management program prepares students for a career in the business world and become an entrepreneur with managerial thinking.
Catalog 2017 (PDF), Catalog 2018 (PDF)
Program Objective
The objectives of the program:
To provide students with fundamental knowledge in management science & business that they will need in management practices.
To provide students with management and business skills integrated with IT & high impact research related to business, management, marketing, international trade, providing adequate tools for business analysis in these areas.
To prepare each student to be an entrepreneur and agent of change by utilizing knowledge & skills in global business management.
Student Outcomes
After completing the study, graduates are:
Able to formulate the management functions (planning, organizing, staffing, directing, controlling and also evaluating) at the operational level in various types of organizations.
Able to execute organizational functions (marketing, operations, human resources, finance, and strategy) at the operational level in various types of organizations.
Able to identify the managerial problems and organizational functions at the operational level, and take appropriate action based on the developed alternative solution, by applying entrepreneurial principles that rooted in local wisdom.
Able to contribute in arranging the organization's strategic plan and spell out the strategic plans into the organization's operational plan at the functional level
Able to understand and implement the appropriate managerial decisions in various types of organizations at the operational level, based on the data analysis and information on business functions.
Able to perform the empirical studies and modeling using scientific methods on the various types of organizations based on the organizational functions
Able to communicate the cross-function and level organization effectively
Able to utilize the information and communication technology in developing global business competencies
Able to apply a critical thinking on current business management case using the economic science and quantitative business
Able to apply an integrated marketing and business strategies in a global business environment
---
Prospective Career
Entrepreneur / Entrepreneur sound business strategy and information technology
Chief Operational Officer at the corporate / enterprise
Strategic Management Consultant / global business consultant
The Manager oriented e-Business
Managers in almost all areas of industry (manufacturing, services, transportation, retail)
Human Resources Manager, Marketing Manager on corporations / multinationals
Business researcher / developer in the banking industry, insurance, financial services, hospitality, and various other industry
Project managers and development
---
---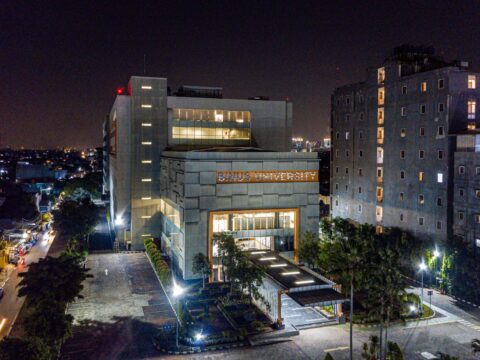 Anggrek Campus - BINUS UNIVERSITY