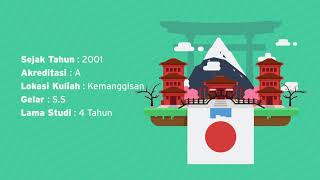 ---
Introduction
In line with the rapid increase in Japan investigation and Cooperation in Indonesia, it is necessary to master the Japanese language as well as knowledge about Japan. To meet this need, the Faculty of Humanities at BINUS UNIVERSITY has been offering the Japanese undergraduate Study Program since 2001. Graduates of the Japanese Study Program at BINUS UNIVERSITY will have Japanese knowledge, language skills, and good attitudes that can be applied after completing their study.
The Japanese Study Program curriculum provides language skills consisting of competence in speaking, listening, reading, and writing, which enables the students to adapt to situations when dealing with Japanese people. Besides, they will also know of Japanese studies such as culture, ethics, community, and history. So that the graduates will be able to get a job soon or to set up their own business after graduating, students are provided with practical knowledge of Japanese business and management, Japanese business culture, as well as knowledge of entrepreneurship. Furthermore, the students are also equipped with Japanese computer skills and information technology so that they will be able to communicate more efficiently in the modern world.
Graduates of the Japanese Study Program will have high-level analytical skills if they wish to continue their education or to work in fields such as business, manufacturing industry, services, tourism, or communication. The professions that graduates could consider are Japanese speaker, translator, interpreter, public relations officer, secretaries, researchers or entrepreneurs.
There is also Minor and Free Elective program which student can explore their interest. Developed their abilities, and apply it on their work. Student will have access to various subject in Computer Science, Design, Hospitality, and many more.
Catalog 2016 (PDF), Catalog 2017 (PDF), Catalog 2018 (PDF), Catalog 2019 (PDF), Catalog 2020 (PDF)
Vision
A Japanese Study Program which is excellent in applied Japanese Language skills, Technology and Culture and innovative as a role model for more competitive and adaptable graduates.
Mission
The mission of Japanese Department is to contribute to the global community through the provision of world-class education by:
Educating students with Japanese language skills, knowledge, culture, and Applied Japanese for Office and translation by providing excellent courses based on Information Technology.
Providing a solid learning and research experience through the creation of creative and value-added talents of leaders for global community.
Preparing graduates aiming for  higher  education degree in Japanese or related disciplines.
Developing professional services with an emphasis on application in Japanese knowledge to improve the quality of life of Indonesian and the international community.
Program Concentration
The objectives of the program are:
To provide language skills on the level of 3rd Japanese Language Proficiency Test (JLPT) consisting of competence in speaking, listening, reading, and writing, which enable the students to adapt to situations when dealing with Japanese people.
To provide applied Japanese skills which enable the students to adapt to working environment.
To provide knowledge about Japanese culture, ethics, community and history.
---
Prospective Career
With the skills mentioned above and knowledge, the Japanese graduates are expected to be able to develop themselves in the community for the following professions:
Japanese Speaker
Japanese Business Correspondent
Japanese Interpreter and Translator
Japanese Public Relations Officer/ Guest Relation Officer
Independent Travel/ Tourism Agency
Hospitality Service
Entrepreneur, etc.
---
---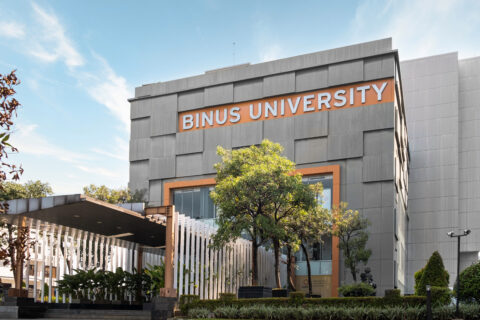 BINUS @Kemanggisan