Interior Design (@Malang)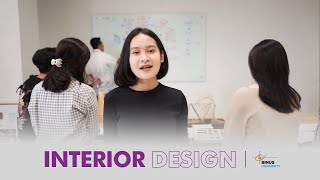 ---
Introduction
Interior Design Program in Bina Nusantara (Campus Malang) is intended for those who have an interest in interior design creative. We prepare graduates to become designers who have the ability of problem-solving, teaching a knowledge and giving experience in designing on a scale of private housing to public spaces. Through various subjects designed to adapt to the latest technology, and combining between theory and practical knowledge, our graduates will qualified to design from a scale of housing to hospitality, business, furniture, interior accessories. Graduates are able to mastering latest technology in interior design, and have a capability to compete globally.
Vision
Becoming a world class Interior Design Program by producing interior designer graduates who have the power to carry nation's culture, and flexibility in technology and information era.
Mission
Interior Design Program, Bina Nusantara University have a mission by contributing to the Global community through the of world class education standard by:
1. Educate students with basic interior skills, which promotes preservation of national culture,
flexible with the application of the latest technology by preparing the best learning facilities
for student.
2. Preparing students who can independently uphold ethics, local cultural heritage values and
entrepreneurial spirit that will contribute positively to the global community
3. Recognize and appreciate the creativity of students as self-development in the interior
design field.
4. Improving the quality of life for local  and international communities by meet the needs of
interior user community from the scale of private to public area.
5. Make creative interior design as a problem solving and professional services that focuses on
the science application into society.
Program Objective
Interior Design Bina Nusantara University (Malang Campus) objectives are:
Producing high-potential, independent, creative & innovative graduates, able to develop added value based on local culture, and ready to work in the field of interior design and as a techno-preneur.
Apply and develop creative science and technology in interior design field.
Playing an active role in collaborating with the world of industry, national business, and local government to increase the potential of regional resources and the competitiveness of East Java and Eastern Indonesia so as to be able to utilize creative technology and global networks.
Student Outcomes
After completing the study, graduates are :
1. Able to develop interior design concept that integrate the result of behavioural, technical
studies, and values related to interior design.
2. Able to design interiors independently, both manually and digitally to meet the needs of user
from residential scale to public space based on design theory, user studies, and interior
design problems.
3. Able to design thematic interior elements (furniture, walls, ceilings, and floors) based on the
material's technical and aesthetic characteristics.
4. Able to produce interior design work as a problem solver and community needs,
which can be academically accounted and fulfil the functional, aesthetic, construction, and
meaningful requirements.
5. Able to communicate ideas in visually communicative and informative forms.
6. Able to design interior and its elements that focused in local wisdom, green design,
sustainability values.
7. Able to create interior design work that are valuable as a professional and design-preneur
8. Able to pioneering an independent business in interior design sector.
9. Able to create the work of interior design and interior support products based on the latest
technology that are environmentally friendly and have a product novelty.
Curriculum
Bina Nusantara University – Interior Design Program (Malang Campus) have unique curriculum as follows:
2+1+1 student mobility,
Bina Nusantara University accommodating students who want to try to feel the experience of studying at Binus Jakarta for 2 semesters, starting from 4th semester to 5th semester. And after that, students must follow Enrichment Programs for a year (6th -7th semester).
Enrichment Programs.
There are 5 Enrichment Programs that can be choose by students based on their interest, as follows: Internship Program, Research Program, Community Department, Entrepreneurship Program, and Study-Abroad Program to the cooperate-universities and/or industries.
Streaming: Smart Living & Environmental Design.
Specified in Interior Design Program (Campus Malang), we provide expertise concentration in smart living system for interior design that environmentally sustain. With this major concentration, our graduates can better adapt and well-equipped to technology developments and able to qualified globally.
Course Structure 
Sem
Kode
Course Name
SCU
Total
1
CHAR6030
Character Building: Pancasila
2
20
DSGN6747
Ergonomic and Anthropometry
2
DSGN6496
Sense of Design*
4
DSGN6497
Interior Drawing
4
ARTS6024
Art Principles
2
ARCH6110
Interior Technical Drawing**
4
English Courses I
ENGL6198
English in Focus
2
ENGL6199
English for Business Presentation
2
2
CHAR6031
Character Building: Kewarganegaraan
2
20
DSGN6498
Interior Design I**/*
4
DSGN6499
Furniture Design I**
4
CIVL6097
Material Knowledge I
2
CIVL6096
Drafting and Detail Construction
4
ENTR6117
Entrepreneurship I
2
English Courses II
ENGL6201
English Savvy
2
ENGL6200
English for Written Business Communication
2
3
CHAR6032
Character Building: Agama
2
22
DSGN6500
Interior Design II
4
ARTS6031
History of Indonesian Art*
2
CIVL6099
Building Component Theory and Regulation
2
DSGN6802
Furniture Design II***
4
CIVL6098
Material Knowledge II**
2
DSGN6803
Computer 2D Drawing
4
LANG6089
Indonesian Language
2
4
ARTS6025
History of Eastern Art
2
22
ARTS6023
History of Western Art
2
DSGN6804
Business in Interior Design***
2
Streaming: SMART LIVING & ENVIRONMENTAL DESIGN
DSGN6805
Experimental Lighting Design **
4
DSGN6806
Environmental Graphic Design (EGD)
4
DSGN6807
Technology & Lifestyle in Design*
2
DSGN6808
Interior Design III
4
DSGN6809
Interior Product Prototyping
2
Minor : Digital Technopreneur
16
Free Elective : Jakarta/Malang
16
Streaming : Jakarta
16
5
DSGN6810
Interior Design and Culture
2
24
DSGN6510
Interior Design Methodology
2
DSGN6811
Portfolio Development*
4
ENTR6512
Entrepreneurship III
2
Streaming: SMART LIVING & ENVIRONMENTAL DESIGN
DSGN6812
Exhibition Design
4
DSGN6813
Environmental & Sustainability Design**
4
DSGN6814
Interior Behaviour & Experience
2
DSGN6815
Interior in Digital Interactive
4
Minor : Jakarta/Malang
14
Free Elective : Jakarta/Malang
14
Streaming : Jakarta
14
6
Enrichment  Program I
16
16
7
Enrichment  Program II
16
16
8
RSCH6451
Final Project
6
6
*) Delivery in English;
**) Global Learning System Course;  
***) Entrepreneurship embedded
Enrichment Track Scheme
Track
Semester 6
Semester 7
I
RS
ENTR
CD
SA
*etc
I
RS
ENTR
CD
SA
*etc
1
v
v
2
v
v
3
v
v
4
v
v
5
v
v
6
v
v
7
v
v
8
v
v
9
v
v
Information:
I               : Internship
RS            : Research
ENTR      : Entrepreneurship
CD           : Community Development
SA           : Study Abroad
*etc        : Study Program Special Purposes
Student will take one of enrichment program tracks
Enrichment Internship Track
Code
Course Name
SCU
Total
Enrichment Program I
16
DSGN6515
Industrial Experience
8
DSGN6516
Design Ideation in Industry
2
DSGN6517
Design Profession in Industry
2
DSGN6518
Self Management in Industry
4
Enrichment Program II
16
DSGN6519
Professional Experience
8
DSGN6520
Design Applied in Industry
2
DSGN6521
Design Process in Industry
2
DSGN6522
Team Work Activity in Industry
4
Enrichment Entrepreneurship Track
Code
Course Name
SCU
Total
Enrichment Program I &II
16
ENTR6414
Business Start Up
8
ENTR6415
Business Model & Validation in Design Field
2
ENTR6416
Launching New Venture in Design Field
2
ENTR6417
EES in New Interior Design Business
4
Enrichment Research Track
Code
Course Name
SCU
Total
Enrichment Program I &II
16
RSCH6379
Research Experience
8
RSCH6380
Scientific Writing in Design
4
RSCH6381
Global EES
4
Enrichment Community Development Track 
Code
Course Name
SCU
Total
Enrichment Program I &II
16
CMDV6223
Community Outreach Project Implementation
8
CMDV6224
Community Outreach Project Design
4
CMDV6225
Employability and Entrepreneurial Skills in Design Community
4
Enrichment Study Abroad Track
Code
Course Name
SCU
Total
Enrichment Program I &II
16
GLOB6093
Elective Course for Study Abroad 1
4
GLOB6094
Elective Course for Study Abroad 2
4
GLOB6095
Elective Course for Study Abroad 3
4
GLOB6096
Elective Course for Study Abroad 4
4
GLOB6097
Elective Course for Study Abroad 5
2
GLOB6098
Elective Course for Study Abroad 6
2
GLOB6099
Elective Course for Study Abroad 7
2
GLOB6100
Elective Course for Study Abroad 8
2
GLOB6101
Elective Course for Study Abroad 9
2
GLOB6102
Elective Course for Study Abroad 10
2
GLOB6103
Elective Course for Study Abroad 11
2
GLOB6104
Elective Course for Study Abroad 12
2
Enrichment Program II
16
GLOB6105
Elective Course for Study Abroad 13
4
GLOB6106
Elective Course for Study Abroad 14
4
GLOB6107
Elective Course for Study Abroad 15
4
GLOB6108
Elective Course for Study Abroad 16
4
GLOB6109
Elective Course for Study Abroad 17
2
GLOB6110
Elective Course for Study Abroad 18
2
GLOB6111
Elective Course for Study Abroad 19
2
GLOB6112
Elective Course for Study Abroad 20
2
GLOB6113
Elective Course for Study Abroad 21
2
GLOB6114
Elective Course for Study Abroad 22
2
GLOB6115
Elective Course for Study Abroad 23
2
GLOB6116
Elective Course for Study Abroad 24
2
Student should pass all of these quality controlled courses as listed below:
| | | | | | |
| --- | --- | --- | --- | --- | --- |
| No | Code | Course Name | Minimal Grade | Semester | Streaming |
| 1 | CHAR6030 | Character Building: Pancasila | B | 1 | – |
| 2 | ENTR6512 | Entrepreneurship III | C | 5 | – |
| 3 | DSGN6496 | Sense of Design | C | 1 | – |
| 4 | ARCH6110 | Interior Technical Drawing | C | 1 | – |
| 5 | CIVL6099 | Building Component Theory & Regulation | C | 3 | – |
| 6 | CIVL6098 | Material Knowledge II | C | 3 | – |
| 7 | DSGN6510 | Interior Design Methodology | C | 5 | – |
| 8 | DSGN6812 | Exhibition Design | C | 5 | – |
---
Prospective Career
Interior Design Consultant
Interior Design Contractor
Furniture Designer
Home Accessories Designer
Lighting Designer
Exhibition Designer
Visual Merchandiser
Manufacturer of Interior Accessories
---
---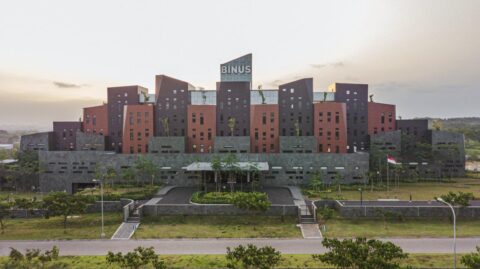 BINUS @Malang