Industrial Engineering (Online Learning)
Introduction
Industrial Engineering program is a branch of engineering that engages in the study of how to describe, evaluate, design, modify, control, and improve the performance of integrated systems of people, materials, and technology, viewed over time and within their relevant context. Industrial engineering is unique in its blend of fundamental topics in mathematics, physical and engineering sciences knowledge with the principles and methods of engineering analysis and design. This field identifies human being as central contributors to the inherent complexity of such systems. Globalization has opened up more doors for service industries worldwide, which leads to an increased demand for industrial engineers. The Industrial Engineering curriculum at BINUS UNIVERSITY is structured to adapt the movement of globalization and tailored to the needs of the globalized world.
Industrial Engineering program emphasizes the application of engineering fundamentals with a balanced treatment of theory, design, and experience. Computer applications are integrated throughout the curriculum. This program allows flexibility to its students to study certain topics in breadth and depth by offering Supply Chain Engineering. The specialization of Supply Chain Engineering covers how modern production and operations management techniques can respond to the pressures of the competitive global marketplace by integrating all activities in the supply chain, adding flexibility to the system and reducing production cost.
Some of the core courses require the students to not only having a full grasp of the theoretical aspects but also on how to implement them in a time study analysis. The Industrial Engineering facilities are well-equipped in the areas of engineering graphics, industrial engineering systems design, and human-machine integration. The laboratories are available for students to use during their study are but not limited to: Physics Lab, Manufacturing Process Lab, Technical Drawing Lab, Simulation Lab, Work Design, and Ergonomics Lab.
Program Objective
The objectives of the program are:
To prepare students with best practices in Industrial Engineering in order to prepare students for global competition and real contribution in the profession and community
To prepare students with advanced knowledge in Industrial Engineering for strategic advantage and commitment to professional standards and ethical practice
To provide equal education opportunities for higher education through distance learning mode and disseminate the knowledge in Industrial Engineering
Student Outcomes
After completing the study, graduates will have the following competencies an ability to:
Apply mathematics, science, and engineering principles to solve complex engineering problems in integrated systems (including human, material, equipment, energy, and information).
Find the source of complex engineering problems in integrated systems through process of investigation, analysis, interpretation of data and information based on analytical, computational, or experimental approach.
Conduct research that includes identification, formulation, and analysis of engineering problems in integrated systems.
Formulate alternative solutions to solve complex engineering problems in integrated systems taking into account the economic, health and safety factors of the public, cultural, social and environmental (environmental consideration).
Design and control integrated systems taking into account technical standards, performance aspects, reliability, ease of application, sustainability, and attention to economic, health and safety factors of public, cultural, social and environmental factors..
Select resources and utilizing design tools and engineering analysis based on appropriate information and computing technology to perform engineering activities in the field of integrated systems.
Integrate ICT into system integrated planning process in the service and supply chain areas.
---
Prospective Career
Manufacturing Industry: Inventory Management, Logistics, Operation Management, Production Management, and Warehousing.
Research and Development: Data Analysis, Environmental Protection and Preservation, and Human Factors Engineering.
Service Industry: Client Management, Commercial Banking and Real Estate, Financial Consulting, Health Systems, and Human Resource Consulting.
Business and Management: Business Strategy, Investment Banking, Management Analysis, Project Management, and Business Development.
Education: Teaching and Research, consulting.
Information Technology: Computer Integration, Database Design, Telecommunication, and Web Development.
---
---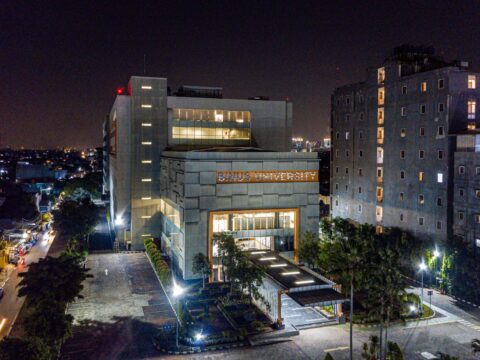 Anggrek Campus - BINUS UNIVERSITY