Game Application and Technology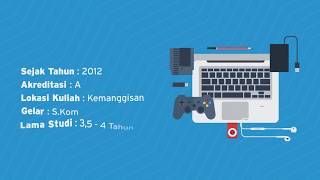 ---
Introduction
Computer, mobile, and console games represent a multi-billion dollar global industry. Game Application and Technology (GAT) Program offers dedicated degrees in game development, giving students the technical expertise they need to enter the industry confidently. GAT Program is designed specifically by Computer Science, BINUS UNIVERSITY to provide students with knowledge and skills to develop and create a variety of applied technology in the field of game technology. BINUS UNIVERSITY found this Program in September 2012, and it became one of the best programs under the coordination of School of Computer Science. In collaboration with several renowned game industries, GAT Program always make continuous improvement in our curriculum, human resources and facilities. The GAT Lab, equipped with high specification computers and dedicated audio editing studio, will facilitate the students and lecturers to collaborate and deliver high quality games. GAT Program is designed to adapt the dynamically changing creative industries landscape while ensuring a solid academic foundation and aligned to industry expectations. GAT focuses on game art, game design, and game programming. Derived from Computer Science Study Program, GAT Program offers game programming and development blended with creativity and innovation in Game Technology. The structure of the course allows students to gain valuable practical experience in building software systems, and also apply knowledge in creative game design. GAT Program have a strong base in computer science foundation subjects as well as offering the theoretical and critical thinking behind current digital technologies. Students will learn in a project orientated environment that encourages collaboration with industries. This collaboration helps them discover creative solutions to contemporary design challenges. Students are encouraged to collaborate, work according to deadlines, maintain attendance levels and develop strong communication skills. As a result, graduates are internationally renowned for their expertise and confident to enter the workplace as newly skilled professionals rather than technicians.
Vision
Become a study program of choice in Computer Science, focus in creative software solutions for business and industry, recognized internationally, championing innovation and produce graduates with international qualification.
Mission
The mission of Game Application and Technology Program is to contribute to the global community through the provision of world-class education by:
Educating student in the fundamental skills, knowledge, and practice of recent mobile technologies and architectures, wireless technologies, mobile software development, and game design;
Conducting research and providing game application and technology professional services with an emphasis on the application of knowledge for society's development;
Sharing the application of knowledge related to game application & technology with a view to Indonesians' and the international community quality of life;
Influencing students & lecturers to be creative, value-adding and competitive at an international level in game application & technology, by creating a suitable environment;
Preparing students as smart and skilled game application & technology professionals, leaders, and entrepreneurs in the global market and/ or to continue in related disciplines.
Program Concentration
The objectives of the program are:
To provide students with a solid foundation of mathematical, algorithm principles, computer science knowledge and ethical that will be needed in IT practice;
To provide students with skills to apply design and development principles in the construction of software system applied in database technology, intelligence system, networking and multimedia development;
To prepare students with abilities to keep up-to-date with the latest Information Technology trends, developments and industries;
To prepare students with abilities in problem solving and good communication skills to be able to work as an individual or in a team in an IT environment.
---
Prospective Career
After finishing the Program, the graduate of Game Application and Technology Program could follow a career as:
Game Engineer / Developer
Game Designer
Game Artist / Technical Artist
Game Audio Engineer
Game Director / Chief Technology Officer
Game Content Provider
Game Consultant
Game Publisher
Entrepreneur
---
---
Kemanggisan