Computer Science – Global Class
Introduction
To answer the challenges of ICT in Indonesia and the global arena will require many talents that are creative and have an interest in developing creative solutions. BINUS UNIVERSITY is committed to taking part in the field of Computer Science to take Indonesia to the next level through ICT. BINUS Global Class for Computer Science program is a study program of choice in Computer Science that focuses on developing creative software solutions for industry, is recognized internationally, champions innovation, and delivers graduates with international qualifications. BINUS Global Class also offers the uniqueness of compulsory study abroad for one semester and international internship opportunities.
Vision
"A world class study program by providing excellent educational experiences in Computer Science, which focuses on developing creative technology solutions, fostering and empowering the society in building and serving the nation."
Mission
The mission of Computer Science Department is to contribute to the global community through the provision of world-class education by:
Educating students to effectively apply their educational experiences in developing creative solutions in computer science to solve real-world problems.;
Preparing graduates to develop exemplary soft skills & technical skills required as computer science professionals, leaders, and entrepreneurs in global market;
Promoting high-impact computer science research that contributes to the nation;
Fostering BINUSIAN as computer science lifelong learners through self-enrichment.;
Empowering BINUSIAN to continuously improve society's quality of life through knowledge in computer science.
Partner Computer Science – Global Class
| | | | |
| --- | --- | --- | --- |
| No | University* | Country | QS Ranking 2023 |
| 1 | Saxion University of Applied Science | Netherlands | – |
| 2 | Coventry University | United Kingdom | WUR 601-650, EFMD |
| 3 | Southern Denmark University | Denmark | WUR 309 |
| 4 | Ateneo de Manila University | Phillipines | WUR 601-650 |
| 5 | MAPUA University | Phillipines | AUR 501-550 |
| 6 | Universiti Malaya | Malaysia | WUR 65, AACSB |
| 7 | Universiti Utara Malaysia | Malaysia | WUR 511-520 |
| 8 | University of Nottingham Malaysia Campus | Malaysia | WUR 103 |
| 9 | Beijing Institute of Technology | China | WUR 392 |
| 8 | South China University of Technology | China | WUR 407 |
| 9 | Xi'an Jiaotong Liverpool University | China | WUR 801-1000 |
| 10 | National Sun Yat-Sen University | Taiwan | WUR 416 |
| 11 | National Tsing Hua University | Taiwan | WUR 168 |
| 12 | Mahidol University | Thailand | WUR 255 |
| 13 | University Brunei Darussalam | Brunei Darussalam | WUR 250 |
| 14 | Shibaura Institute of Technology | Japan | AUR 351-400 |
| 15 | Dongguk University | South Korea | WUR 494 |
| 16 | Sejong University | South Korea | WUR 651-700 |
| 17 | University of Johannesburg | South Africa | WUR 434 |
* Partner University list will be updated regularly
** Acceptance to partner university will be decided by the partner university
---
Prospective Career
After finishing the program, the graduate of Computer Science Program could follow a career as:
Software Engineer/Developer
System Analyst/Developer
Web Engineer/Developer
Computer Network Specialist
Database Specialist
Artificial Intelligence Specialist
Data Scientist
IT Support/Consultant
Researcher
Multimedia Programmer
Lecturer/Trainer
---
---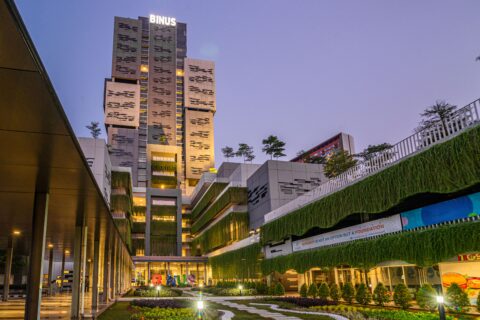 BINUS @Alam Sutera