Business Information Systems (International Program)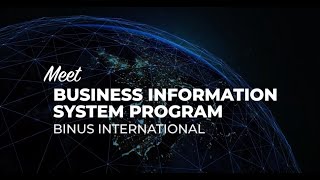 ---
Introduction
The Business Information Systems program is a unique combination of the computing domain and the business sector that is developed to equip the students with competencies of managing IS (Information Systems), information technology, entrepreneurship, business processes, and project management. Its graduates will play an important role in delivering technological solutions to the marketplace by systematically recognizing and translating business needs into technical IT (Information Technology) requirements.
The ability to be the link between technology and the people/customer is a rare expertise in the IT industry nowadays. Combined with a focus on international quality higher education systems, embedded entrepreneurship, and innovation subjects, the program opens its graduate to endless opportunities from being a world class Information Systems professional to a well-equipped business start-up entrepreneur.
The double degree offered in partnership with Queensland University of Technology (QUT), Auckland University of Technology (AUT), Northumbria University in the United Kingdom, and Cologne Business School in Germany, will enhance students' ability to compete in the international marketplace. The program aims to prepare students for either immediate entry into the global marketplace or for more advanced study in either business or information technology.
Catalog 2013 (Pdf); Catalog 2014 (PDF); Catalog 2015 (PDF); Catalog 2016 (PDF);
Catalog 2017 (PDF); Catalog 2018 (PDF); Catalog 2019 (PDF)
Program Objective
The objectives of the Business Information Systems program are:
To equip the students with the latest data science capability and knowledge on technology-based solutions of web and mobile applications, business process re-engineering, infrastructure architecture, and databases; to meet management needs for information systems and decision support.
To equip students with various thinking skills in the area of strategic planning, strong analytical, critical, and design thinking in developing innovative technology solutions.
To equip students with leadership, entrepreneurial, ethical professional skills related to the Information Systems industry.
To equip student with openness and awareness of diversity across cultures and to prepare them with effective communication skills to enter the international market as global citizens.
Student Outcomes
Upon successful completion of this four-year program, students are expected to be able to:
Identify and formulate the root cause of system performance information through data analysis and information on business processes.
Identify the needs of the database for building information systems.
Design, create and manipulate and implement computer-based information systems through the study of information systems to develop a strategic plan organizations.
Design, create, manipulate and implement computer based information system for new business model.
Apply the contemporary technology in Information Systems of cloud based, mobile, analytics, and Internet of things.
Implement strategic planning, critical thinking, and design thinking in developing innovative technology solutions.
Make creative business plan and to construct, innovate and evaluate digital based business start-up.
Apply project management concepts such as initiation, planning, execution, control and closure of projects to practice information-based systems in an international working environment.
---
Prospective Career
Data Scientist
Corporate Information Systems Designer
Database Administrator (DBA)
E-Business Entrepreneur
Enterprise System Administrator
Enterprise Resource Planning (ERP) Consultant
Information Technology-Based Entrepreneur
IS Project Manager
IT/IS Consultant
IS Auditor
Programmer Analyst
System Tester and Integrator
---
---
FX Campus - BINUS @Senayan