Biotechnology study program BINUS University aimed at those who are willing about the principle and application of modern biotechnology to gain the value of bioresources, develop innovative bio-based product, and solve the problem of bioresources management. This program is intended to graduate that willing to have a career in diverse area of biotechnology including agriculture, aquatic, bioindustry, nutraceutical, and pharmaceutical fields.
The learning method is designed in class and laboratory. Therefore, the students will have a strong knowledge and skill in biotechnology. The curicculum is combined with information technology to support the well-knowledge of bioinformatics. Moreover, the curicculum is also enriched with entrepreneurship to create graduates who are ready to work in national and multinational companies and have the ability to build biotechnology-based startups.
Student will learn: (1) Biosciences including biology, chemistry, genetics, cell and molecular biology, genetic engineering, and plant cell culture; (2) Bioinformatics including data science, basic programming, and big data; (3) Bioentrepreneurship including bioethics, biosafety, and commercialitation; and (4) soft skills including scientific communication, critical thinking, and profesionalism. The curiculum support Merdeka Belajar Kampus Merdeka program which student can choose the streaming "applied biotechnology" or minor program and have 2 semester for enrichment. The enrichment including internship, research, entrepreneuship, study abroad, and community services.
'Learning management system in the basis of website and mobile application; Well-equiped laboratory such as (1) Biology Laboratory, (2) Chemistry Laboratoru, (3) DNA Technology Laboratory, (4) Tissue Culture Laboratory, and (5) Computer Laboratory; Creative Class; and Library
Program Concentration
Green Biotechnology (Agriculture and Foods); Blue Biotechnology (Marine based product); Bioinformatics
---
Prospective Career
(1) Production and Quality Assurance Specialist in bioproduct and biotechnology-based product industries or government agencies
(2) Bioentrepreneurs
(3) Product marketer in reagent and high-throughput technologies that related to biotechnology
(4) Junior researcher (bioinformatics and data science, molecular biologist, plant biotechnologist)
(5) Molecular biology specialist and molecular diagnostic specialist
(6) educator and influencer in biotechnology field
---
---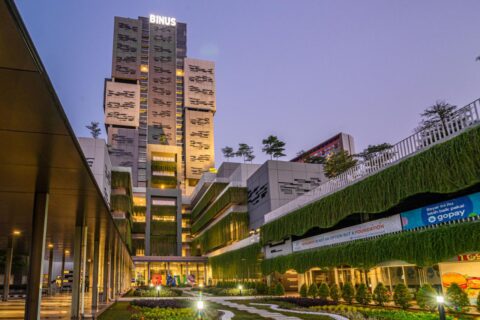 BINUS UNIVERSITY @Alam Sutera