Automotive and Robotics Engineering (International Program)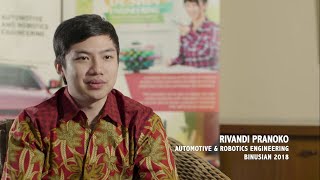 ---
Introduction
Automotive Robotics Engineering (ARE) Program offers comprehensive approaches in developing students' excellent abilities towards Digital Era, implemented in wide spectrum of Intelligent Automotive Industries. ARE is a leading program prioritizing the implementations of robotics through Artificial Intelligence (AI).
The ability facilitates ARE students to analyze, design and build mechanical and automated electronic systems for automotive sub systems and manufacturing processes using design tools in global industries today. Subsequently, they are indispensable for students to be excellent in professional and/or entrepreneurship upon their study completion from BINUS ASO School of Engineering (BASE). Ultimately, the aforementioned abilities are aligned with current and incoming challenges in Digital Era of Industry 4.0; that include the design and development of mechanical systems with 3D tools, computerized electronic systems, intelligent automotive systems, and intelligent robotic systems for automation in various industries.
Catalog 2015 (PDF); Catalog 2016 (PDF); Catalog 2017 (PDF); Catalog 2018 (PDF); Catalog 2019 (PDF); Catalog 2020 (PDF)
Program Objective
The objectives of the program are :
Our graduates will be productively involved in identifying and solving engineering problems by creatively applying engineering principles in the broad areas of automotive and robotics engineering.
Our graduates will attain successful careers with leadership positions in industry, academia, and public service.
Our graduates will adapt to new technologies, tools and methodologies to respond to the rapidly changing world by continuously updating and renewing their knowledge throughout their careers.
Student Outcomes
At the end of the program, graduates will have these following competencies:
An ability to apply knowledge of math, science, and engineering.
An ability to design and conduct experiments, as well as analyze and interpret data.
An ability to design a system, component, or process to meet desired needs within realistic constraints such as economic, environmental, social, political, ethical, health and safety, manufacturability, and sustainability.
An ability to identify, formulate, and solve engineering problems.
An ability to use the techniques, skills, and modern engineering tools necessary for engineering practice.
An ability to function on multidisciplinary teams.
An understanding of professional and ethical responsibility.
An ability to communicate effectively.
The broad education necessary to understand the impact of engineering solutions in a global, economic, environmental, and societal context.
A recognition of the need for, and an ability to engage in life-long learning.
A knowledge of contemporary issues.
---
Prospective Career
Automotive Automation Engineer
Automated Driving Engineer
Vehicle System Integration Engineer
Automotive Electronic Test Engineer
Industrial Robotics Integration Engineer
Automation-based Solution Engineer
Intelligent Embedded System Designer
Technopreneur
---
---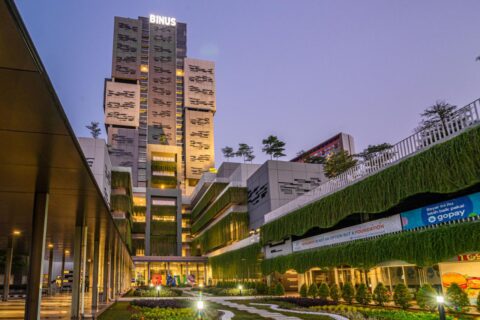 BINUS UNIVERSITY @Alam Sutera