QS World University Rankings Asia 2024 : BINUS UNIVERSITY Unggul Dalam Reputasi Akademik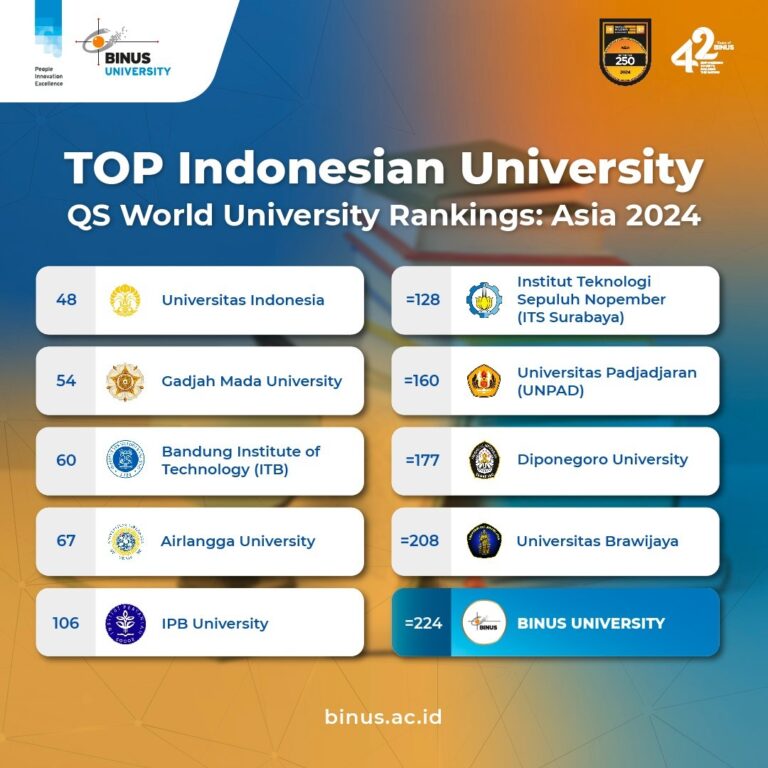 Jakarta, 8 November 2023 – BINUS UNIVERSITY kembali meraih pengakuan sebagai salah satu dari sepuluh perguruan tinggi terbaik di Indonesia dalam QS World University Rankings: Asia 2024, yang diterbitkan oleh Quacquarelli Symonds (QS).
Dalam pemeringkatan ini, BINUS berhasil menempati peringkat 224 di Asia dan peringkat ke-10 di Indonesia. QS World University Rankings Asia adalah publikasi tahunan yang menilai 857 perguruan tinggi di Asia, termasuk 42 perguruan tinggi di Indonesia.
QS World University Rankings: Asia 2024 mengukur empat area yang dibagi dalam 11 indikator kinerja, yaitu Research and Discovery (academic reputation, citations per paper, papers per faculty), employability outcomes (employer reputation), learning experience (faculty student ratio, staff with PhD), dan global engagement (international research network, inbound exchange students, international faculty, international students, outbound exchange students).
Rektor BINUS UNIVERSITY, Dr. Nelly, S.Kom., M.M., CSCA mengungkapkan, "Suatu kebanggaan atas pengakuan yang tahun ini kembali diberikan QS kepada BINUS dalam World University Rankings: Asia 2024. Di mana pada tahun ini, reputasi akademik BINUS meningkat dari tahun sebelumnya," ungkapnya.
"Capaian ini merupakan penghargaan atas pelaksanaan pendidikan di BINUS yang sesuai dengan standar global, dan kami akan terus meningkatkannya di masa mendatang sesuai dengan visi BINUS 2035, a world-class university, fostering and empowering the society in building and serving the nation", Dr. Nelly menambahkan.
Selain World University Rankings: Asia 2024, BINUS UNIVERSITY juga telah memperoleh pengakuan dari QS dalam beberapa kategori pemeringkatan lainnya seperti:
QS World University Rankings 2024 (#1001-1200 dunia)
QS World University by subject 2023: Business Management Studies (451-500 dunia) dan Computer and Information Systems (351-400 dunia)
QS Global MBA Rankings 2024 untuk BINUS Business School (201-250 dunia)
Selain itu, QS juga melakukan penilaian yang lebih mendalam terhadap sebuah institusi pendidikan atau perguruan tinggi melalui QS Stars University Ratings. BINUS UNIVERSITY memperoleh rating 5 Stars Overall pada area teaching, employability, internationalization, facilities, social responsibility, inclusiveness, dan online learning.
Sumber: