Empat Bidang Ilmu BINUS UNIVERSITY Kembali Masuk Pemeringkatan Global
Bidang ilmu Business and Economics, Computer Science, Engineering, dan Social Science BINUS UNIVERSITY dalam Pemeringkatan Times Higher Education World University Rankings by Subject 2024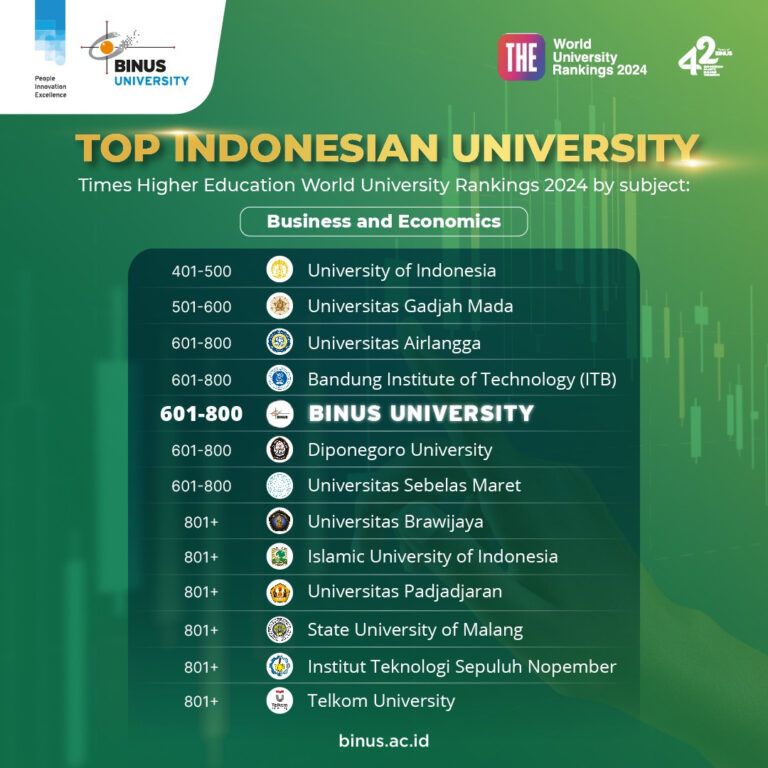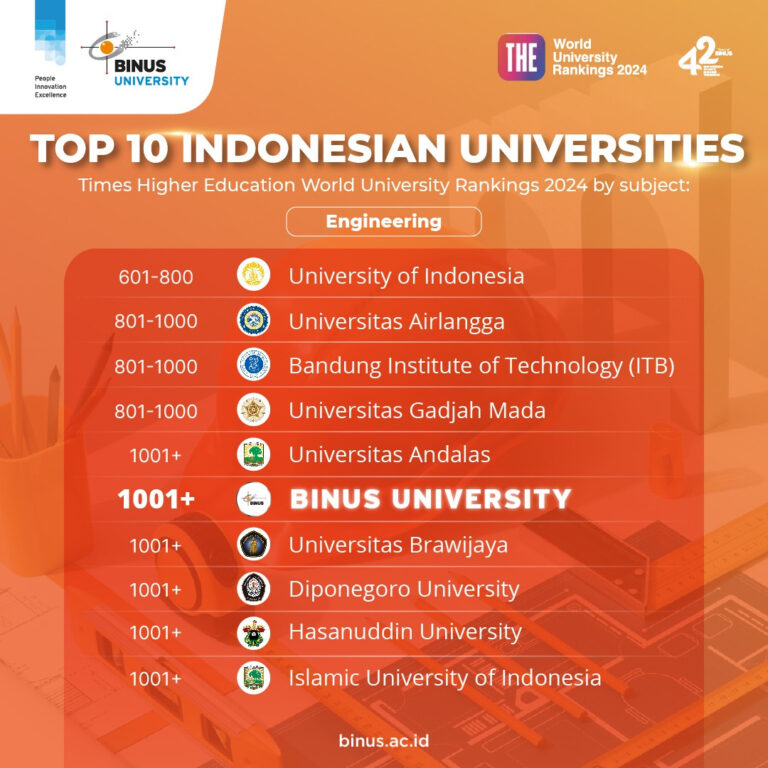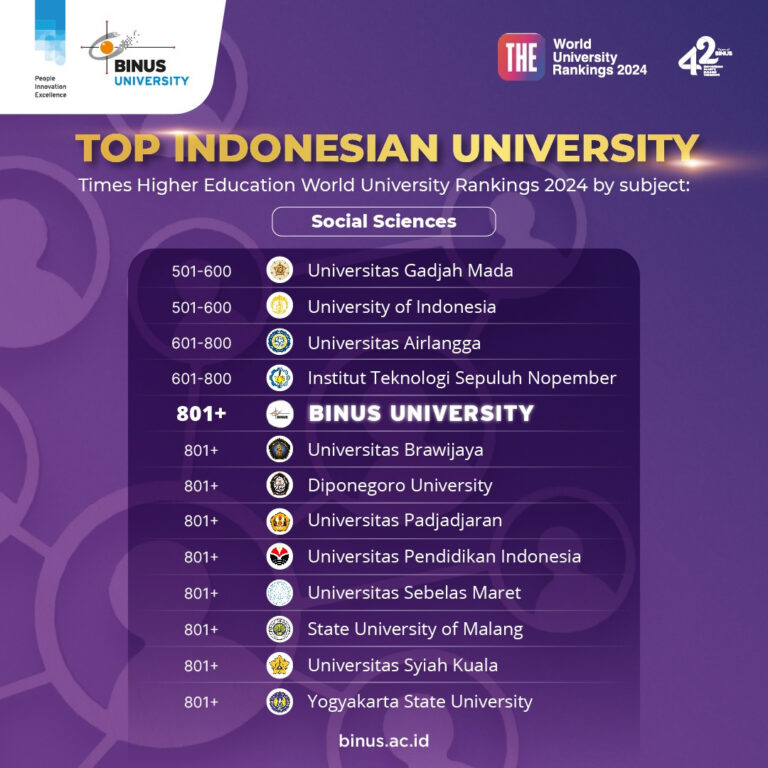 Jakarta, 26 Oktober 2023 – BINUS UNIVERSITY kembali memperoleh pengakuan dari Times Higher Education dalam pemeringkatan World University Rankings 2024 by Subject yang menunjukkan kualitas penyelenggaraan pendidikan dalam empat bidang ilmu; Business and Economics, Computer Science, Engineering, dan Social Science.
Times Higher Education WUR 2024 by Subject menggunakan 18 indikator kinerja yang telah dikalibrasi untuk menyesuaikan setiap bidang dalam lima kategori indikator, yaitu Teaching (the learning environment) dengan bobot 29,5%, Research environment dengan bobot 29%, research quality dengan bobot 30%, international outlook dengan bobot 7,5%, dan industry dengan bobot 4%.
Dilansir pada laman Times Higher Education , BINUS UNIVERSITY berada pada peringkat 5 di Indonesia dan 601–800 di dunia pada bidang ilmu Business and Economics dengan skor keseluruhan 23.0–31.2. Ditinjau dari indikator penilaian, di antara perguruan tinggi Indonesia yang masuk dalam pemeringkatan, BINUS memperoleh skor tertinggi yaitu 42,8 untuk kategori Research.
Pada bidang ilmu Computer Science, tahun ini Times Higher Education melakukan asesmen terhadap 1.027 universitas, naik dari 974 di tahun lalu. BINUS berada pada peringkat tiga dari delapan perguruan tinggi Indonesia dan posisi 801-1000 dunia dengan skor keseluruhan 16.9-25.9.
Pada bidang Engineering, tahun ini Times Higher Education melakukan asesmen terhadap 1.374 universitas, naik dari 1.306 di tahun lalu. BINUS berada pada posisi tujuh di Indonesia dan 1001+ dunia dengan skor keseluruhan 8.3-23.5.
Sedangkan pada bidang Social Sciences, tahun ini dilakukan asesmen terhadap 997 universitas naik dari tahun lalu yang berjumlah 941. BINUS berada pada posisi lima di Indonesia dan peringkat 801+ dunia dengan skor keseluruhan 11.3-23.3.
"Terima kasih atas kepercayaan dan pengakuan yang diberikan oleh Times Higher Education kepada 4 bidang ilmu di BINUS UNIVERSITY. Pengakuan ini merupakan sebuah apresiasi terhadap upaya BINUS UNIVERSITY dalam menyelenggarakan pendidikan sesuai dengan standar kualitas, mutu, dan penilaian yang ditetapkan oleh Times Higher Education," ungkap Dr. Nelly, S.Kom., M.M., CSCA selaku Rektor BINUS UNIVERSITY.
Selain pemeringkatan World University Rankings by Subject, pengakuan juga diberikan Times Higher Education kepada BINUS pada kategori THE World University Rankings 2024 di mana BINUS berada di posisi 1201-1500, THE Impact Rankings 2023 di mana BINUS berada pada posisi 801-1000, dan pada THE Young University Rankings 2023, BINUS berada pada posisi 401-500.