BINUS UNIVERSITY Menempati Posisi 800-1000 dunia dalam Times Higher Education Impact Rankings 2023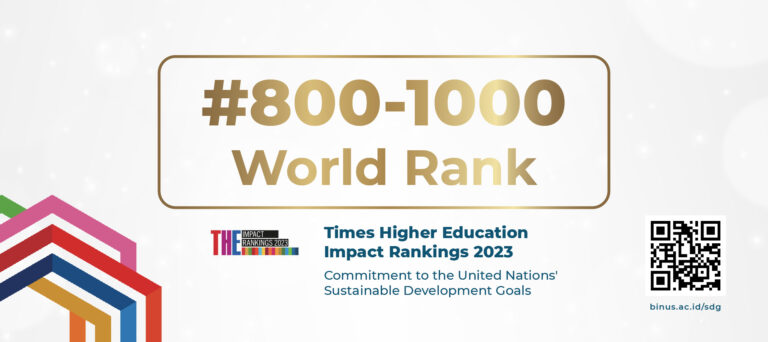 Jakarta, 1 Juni 2023 – BINUS UNIVERSITY menempati posisi 800-1000 dunia dalam Times Higher Education – Impact Rankings 2023.  Pemeringkatan ini dilakukan terhadap 1.591 perguruan tinggi dari 112 negara. Di Indonesia, BINUS UNIVERSITY berada pada peringkat 19 dengan total skor 53.9–59.6 poin dari 11 kategori TPB yang diikuti.
Impact Rankings 2023 mengukur kontribusi perguruan tinggi dunia berdasarkan 17 TPB (Tujuan Pembangunan Berkelanjutan) berbasis sustainable development goals yang ditentukan oleh Perserikatan Bangsa-Bangsa (PBB) melalui empat indikator yaitu Research (penelitian), stewardship (pelayanan), outreach (jangkauan), dan teaching (pengajaran)
"Ini merupakan komitmen dan kontribusi nyata BINUS UNIVERSITY bagi SDG terkait ekonomi, pembangungan SDM, kesetaraan, keberlangsungan komunitas, dan poin SDG lainnya. Keunggulan inovasi dalam bidang teknologi informasi telah kami tekadkan agar dapat semakin berkontribusi melalui karya-karya inovatif bagi bangsa dan negara," tutur Prof. Dr. Ir. Harjanto Prabowo, M.M., Rektor BINUS UNIVERSITY.
Tujuan Pembangunan Berkelanjutan yang diikuti oleh BINUS UNIVERSITY adalah No Poverty; Good health and well-being; Quality Education; Decent work and economic growth; Industry, Innovation, and Infrastructure; Reducing inequalities; Sustainable cities and communities; Responsible consumption and production;  Life on land;  Peace, justice and strong institutions; dan Partnerships for the goals.
BINUS UNIVERSITY resmi berpartisipasi dalam THE University Impact Rankings sejak tahun 2021. Pada Januari 2023, BINUS juga telah resmi menjadi bagian dari SDSN Member (Sustainable Development Solutions Network).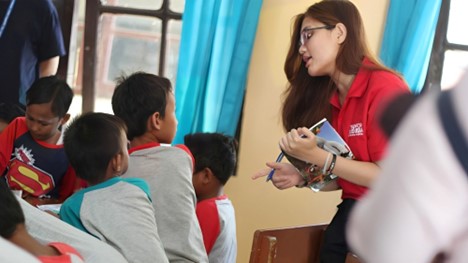 BINUS berkomitmen mewadahi riset dan kegiatan pemberdayaan masyarakat yang menunjukkan kontribusi pada SDG. BINUS yang unggul dalam Business dan Computer Science (IT), mengarahkan keutamaan isu SDG pada area inovasi, teknologi, dan bisnis serta edukasi berkelanjutan yang sejalan dengan visi BINUS 2035: Fostering and empowering the society in building and serving the nation through nurturing exemplary character, advancing knowledge, and promoting innovation (creative, process, technology).
Info lebih lanjut, silakan kunjungi laman dan Instagram Sustainable Development Goals BINUS UNIVERSITY:
Website               : https://binus.ac.id/sdg/
Instagram           : https://www.instagram.com/sdg.binus/