Kiprah D'BASE Yang Berangkat Kompetisi Internasional Dengan Ciptakan Mobil Masa Depan Ramah Lingkungan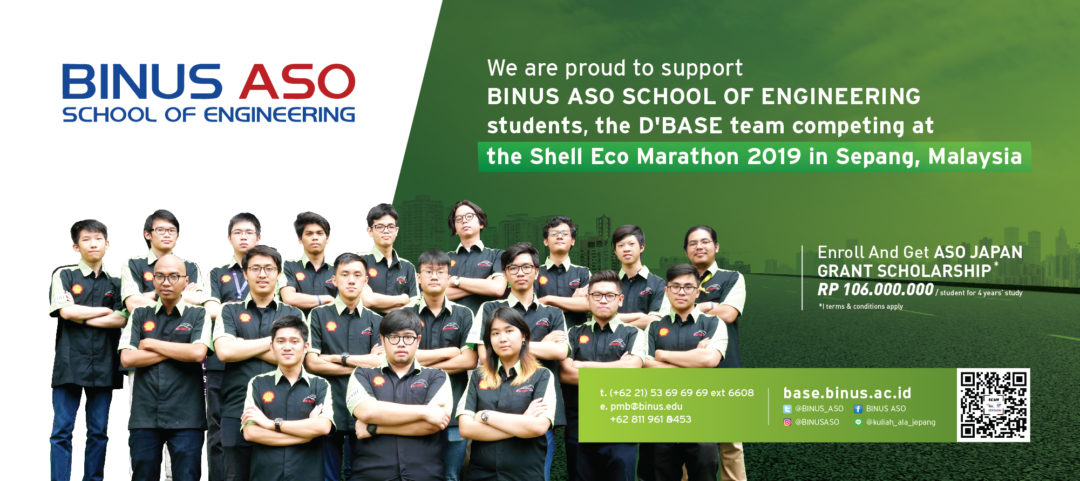 Jakarta, 16 April 2019 – D'BASE. Sebuah team yang terdiri dari Sembilan belas mahasiswa BINUS ASO School of Engineering akan segera berangkat dan mengikuti Shell Eco Marathon ASIA 2019 yang diadakan di Sirkuit Internasional Sepang, Kuala Lumpur, 29 April-2 Mei 2019. Shell Eco Marathon ASIA 2019 adalah salah satu kompetisi unik berkelas dunia yang menggabungkan ilmu pengetahuan, teknologi, teknik, dan matematika.  Kompetisi ini memberikan kesempatan kepada peserta untuk mendesain dan menciptakan ultra energy efficient cars, dan diperlombakan pada tahap akhir.
Project ini dimulai sejak tahun 2016 dan pada awalnya mahasiswa menghadapi beberapa kendala pada tahap awal kompetisi internasional ini, dikarenakan sebagian besar mahasiwa berasal dari jurusan automotive and robotics engineering dan product design engineering  serta tidak memiliki pengalaman membuat mobil.
"Tahap awal sangat berat, bahkan beberapa rekan ada yang mundur karena project ini sangat menyita waktu dan tenaga", ujar Ricardo Rusli selaku President of D'BASE. Namun, dengan tekad dan motivasi yang kuat, D'BASE belajar mengenai segala aspek dalam merancang dan membuat mobil mulai dari sketsa hingga tahap akhir penyempurnaan.
Mobil yang memiliki dimensi panjang 2.660 mm dengan lebar 1.200 mm ini dibuat dengan mengikuti standar prototyping produksi sebuah mobil.  Desain yang futuristis dan material yang digunakan memiliki kualitas yang cukup baik untuk sebuah mobil prototype. Selain itu mobil masa depan ini pun sangat irit bahan bakar sehingga sangat ramah lingkungan.
"Semoga tim BINUS ASO School of Engineering dapat menimba pengalaman sebanyaknya pada Shell Eco Marathon ASIA di  2019. Terus semangat mengharumkan nama BINUS dan Indonesia, dan tidak lupa untuk membagikan pengalamannya ketika sudah kembali ke tanah air", ucapan semangat dari Dr. Ho Hwi Chie, M.Sc. selaku Dean of School of BINUS ASO School of Engineering.
***
Tentang BINUS ASO School of Engineering
Dalam rangka untuk mencetak lulusan berkualitas unggul, BINUS UNIVERSITY (Indonesia) bersama ASO College Group (Jepang) mendirikan BINUS ASO SCHOOL of Engineering (BASE). Mahasiswa BASE terjun langsung dalam perkuliahan yang mengkombinasikan antara teori dengan pengalaman langsung melalui fasilitas pembelajaran dengan teknologi terkini.
BINUS ASO School of Engineering memiliki dua program untuk menjawab kebutuhan industri global, yaitu Product Design Engineering and Automotive & Robotics Engineering. Kampus BASE yang berlokasi di Alam Sutera, Tangerang, mengadaptasi budaya Jepang di lingkungan kampus untuk memotivasi mahasiswa agar menjadi engineer yang mandiri dan pemikir yang hebat.
Kampus BASE memfasilitasi mahasiswanya dengan fasilitas terkini. Perkuliahan umumnya disampaikan dalam Bahasa Inggris dan Indonesia oleh dosen berpengalaman dari Jepang dan Indonesia. Mahasiswa juga diberikan kesempatan untuk menggali pengalaman dan menerapkan ilmu yang sudah dipelajari di luar negeri melalui summer course di Jepang dan magang di perusahaan Jepang atau multinasional.
Untuk informasi lebih lanjut hubungi:
Gandy Pratama Jaya
Public Relations
Phone    : 021-5345830 ext. 2183
Cell         : 081519498085
Email      : gandy.jaya@binus.edu