BINUSIAN UNTUK ASIAN GAMES 2018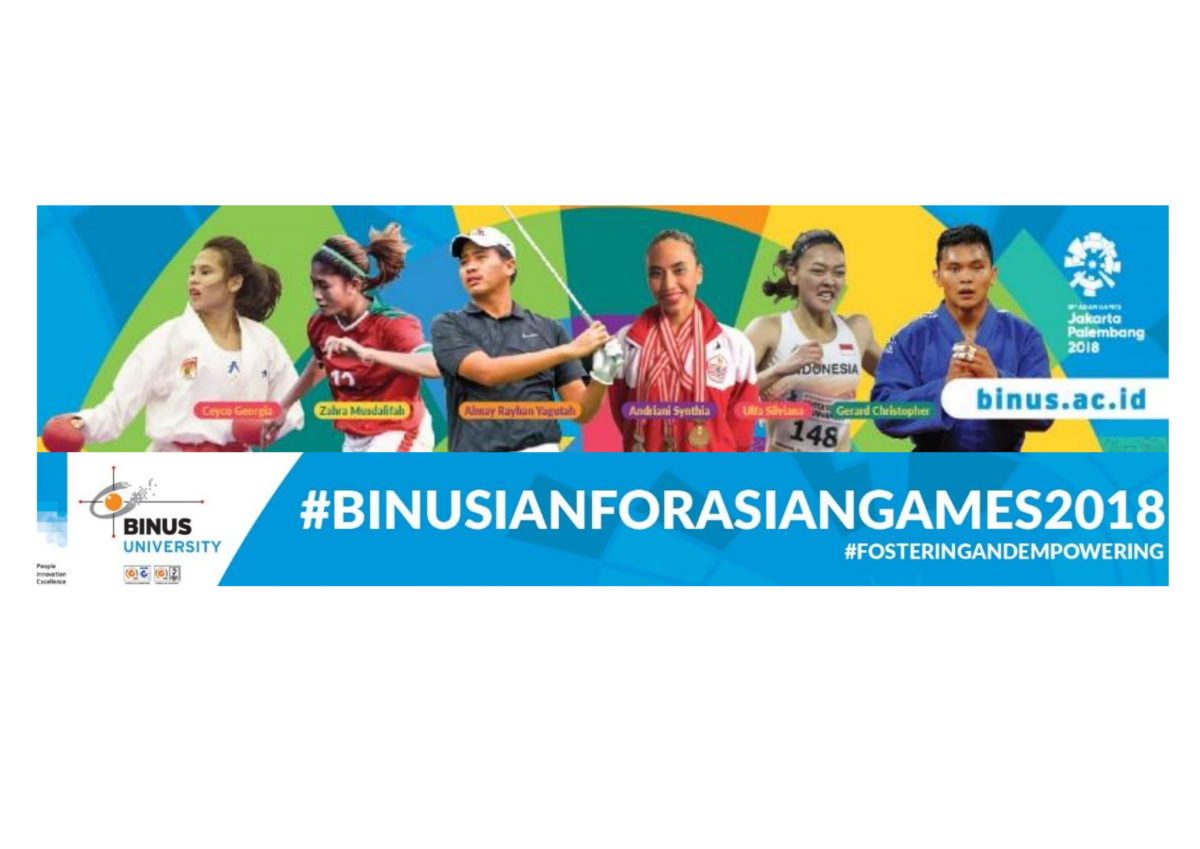 Semangat menjelang ASIAN GAMES 2018 telah melanda seluruh Nusantara. Indonesia sebagai tuan rumah terus menggelorakan semangat Energy of ASIA. Perhelatan akbar ini tentunya akan menjadi sejarah baru bagi bangsa Indonesia. Oleh karenanya keterlibatan dan kontribusi seluruh komponen masyarakat sangatlah penting untuk kesuksesan penyelenggaraan dan raihan prestasi Indonesia di ASIAN GAMES 2018. Tidak terkecuali juga peran institusi pendidikan tinggi dan mahasiswa.
BINUS UNIVERSITY berkomitmen untuk berperan serta dalam mensukseskan penyelenggaraan dan raihan prestasi Indonesia di ASIAN GAMES 2018. Baru-baru ini para pimpinan BINA NUSANTARA (BINUS) telah melepas lebih dari 200 mahasiswa/i BINUS UNIVERSITY yang akan berperan aktif sebagai volunteer untuk mensukseskan ASIAN GAMES 2018 melalui program Broadcast Legacy Programme.
"Saya ingin menambah pengalaman internasional dan teman, serta juga mendukung Indonesia untuk berjaya di ASIAN GAMES 2018." Ucap Adeline, BINUSIAN 2019, Mahasiswi program Marketing Communication.
Mahasiswa BINUS UNIVERSITY lainnya : Obelia Simone, Diandra Prametiasari Palolessy, dan Sufyan Tsaurie juga telah berkontribusi melalui karyanya dan terpilih sebagai pemenang terbaik dalam kompetisi film pendek (vignette) Asian Games 2018. Kompetisi film pendek ini diselenggarakan oleh International Games Broadcast Services (IGBS) selaku pemegang hak siar ASIAN GAMES 2018. Karya tersebut menggambarkan semangat Energy of Asia yang terinspirasi dari kesuksesan Indonesia pada Asian Games 1962 yang menjadi penyemangat guna meraih kembali kejayaan Indonesia di Asia melalui Asian Games 2018.
Tidak hanya itu saja, bahkan ada lima (5) BINUSIAN yang akan berkompetisi untuk Indonesia dalam ajang ASIAN GAMES 2018 ini, diantaranya adalah: Zahra Muzdalifah (Mass Communication) sebagai atlet Sepak Bola Putri; Andriani Synthia (Hubungan International) sebagai atlet Artistic Swimming; Ceyco Georgia (Marketing Communication) sebagai atlet Karate; Gerald Christopher George (Management) sebagai atlet Judo; Ulfa Silviana (Hubungan International) sebagai Atlet Atletik.
"Selamat atas kesempatan luar biasa yang telah diraih oleh BINUSIAN ini, karena tidak semua orang dapat terpilih untuk berkompetisi membawa nama Indonesia pada Asian Games 2018. Semoga kesempatan ini dapat digunakan sebaik-baiknya untuk menambah pengalaman dan membawa nama Indonesia dan BINUS dikancah international." disampaikan Rektor BINUS UNIVERSITY, Prof. Harjanto Prabowo.
Dalam acara pelepasan BINUSIAN untuk ASIAN GAMES 2018 yang dilakukan beberapa waktu lalu, Bapak Stephen Wahyudi Santoso, President BINUS Higher Education juga menambahkan, "Selamat bertanding kepada para Atlet BINUSIAN yang akan berjuang dalam Asian Games 2018. Kobarkan semangat untuk mensukseskan perhelatan akbar ini dan semoga menjadi kebanggaan Indonesia melalui ASIAN GAMES 2018. Jadikan semangat ini untuk terus berkontribusi bagi Nusantara."
Apa yang dilakukan para BINUSIAN ini tentunya menjadi kesempatan besar bagi BINUSIAN untuk berperan aktif berkontribusi mengharumkan Indonesia di dunia internasional. Semangat untuk berkontribusi bagi bangsa ini sejalan dengan semangat Fostering and Empowering yang BINUS tanamkan ke seluruh BINUSIAN.