?INDONESIA BEST SCHOOL OF COMMUNICATION AND MANAGEMENT 2014?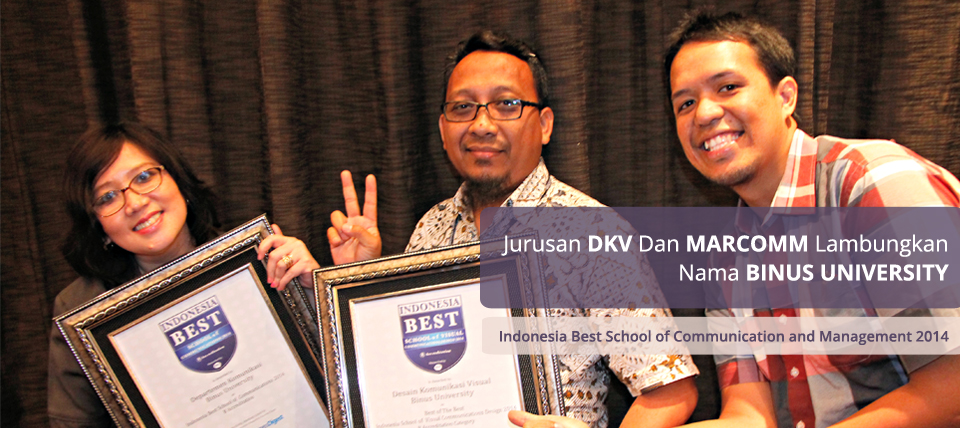 PROGRAM DKV DAN MARKETING COMMUNICATION
LAMBUNGKAN NAMA BINUS UNIVERSITY DI AJANG
?INDONESIA BEST SCHOOL OF COMMUNICATION AND MANAGEMENT 2014?
Program Marketing Communication (MarComm) danProgram Desain Komunikasi Visual (DKV), semakin mengukuhkan nama besar BINUS UNIVERSITY di tengah ketatnya persaingan antar institusi pendidikan berkat kesuksesannya meraih penghargaan ?Indonesia Best School of Communications & Management 2014? yang diselenggarakan oleh Majalah MIX-Marketing Communication, Kamis (18/12) kemarin.
Bertempat di Hotel Akmani, Jakarta Pusat, kedua program tersebut mampu menjadi punggawa bagi BINUS dalam meraih gelar pada masing-masing kategori yang dilombakan pada ajang tersebut.Program MarComm sukses menyabet gelar sebagai The Best School of Communication pada kategori Perguruan Tinggi Swasta dengan akreditasi B, sedangkanProgram DKV berhasil merebut The Best of The Best School of Visual Communication Design, kategori Perguruan Tinggi Swasta dengan akreditasi B.
Sukses kedua jurusan tersebut didapat setelah mampu bersaing ketat di antara kampus-kampus dengan jurusan manajemen, marketing, komunikasi, dan desain yang ada di Indonesia. Melalui survei yang dilakukan kepada stakeholders dari sejumlah kampus yang ada di Indonesia serta beberapa praktisi Human Resource yang diselenggarakan oleh tim dari Majalah MIX, kedua jurusan tersebut mampu meraih penilaian yang sangat memuaskan.
Seperti dijelaskan oleh Pemimpin Redaksi Majalah MIX, Kemal E. Ghani, survei kali ini merupakan penyempurnaan dari survei-survei yang telah dilakukan sebelumnya. Hal tersebut dilakukan semata-mata agar hasil survei mampu mendapatkan hasil yang lebih representatif.
?Survei ini diselenggarakan pada Juli-Agustus 2014 dengan metode multistage random dimana tingkat kesalahan sampling-nya sekitar 5,99% pada interval kepercayaan 95%. Sementara telesurvei kepada 200 orang responden Human Resource People di berbagai perusahaan dilakukan secara purposive sampling pada oktober 2014?, jelasnya.
Keberhasilan kedua program yang dimiliki BINUS UNIVERISTY kali ini tidak lepas dari keseriusan pihak kampus dalam meningkatkan kualitas program-program studi yang diselenggarakan. Melalui konsistensi dan kejelian pihak kampus dalam menjawab kebutuhan di dunia kerja saat ini, program-program perkuliahan tersebut mampu menjadi nilai tambah tersendiri bagi BINUS dalam menghadapi persaingan di dunia pendidikan dan juga di dunia kerja.
Hal tersebut kemudian tampak pada hasil survei yang diselenggarakan kali ini, dimana kedua jurusan, baik MarComm maupun DKV mampu mendapatkan persepsi positif dari para responden.Program MarComm dinilai mampu memberi pemahaman yang menyeluruh akan dunia marketing dan komunikasi. SedangkanProgram DKV dinilai memiliki kelebihan dibandingkan kampus-kampus lain, terutama dalam hal penggunaan Information Technology (IT) dalam praktik desain, sehingga lulusan-lulusannya memiliki kemampuan khusus yang diminati di dunia industri.
Pada kesempatan penyerahan penghargaan, BINUS UNIVERSITY diwakili oleh Dr. Dra. Ibu Ulani Yunus M,M. selaku KetuaProgram Marketing Communication dan Noor Udin, M.Sn selaku SCC Core Creative Advertising jurusan DKV-Creative Advertising.
Keduanya berharap, dengan perolehan penghargaan kali ini BINUS UNIVERISTY mampu meningkatkan kinerja serta kualitas sebagai ?World Class University?, juga bisa menjadi motivasi bagi program-program lain agar mampu meraih hal yang lebih baik lagi, serta mampu memberikan kontribusi pada dunia pendidikan di Indonesia. (RAW)