BINUS UNIVERSITY MEWUJUDKAN TRANSFORMASI PENDIDIKAN DI ABAD 21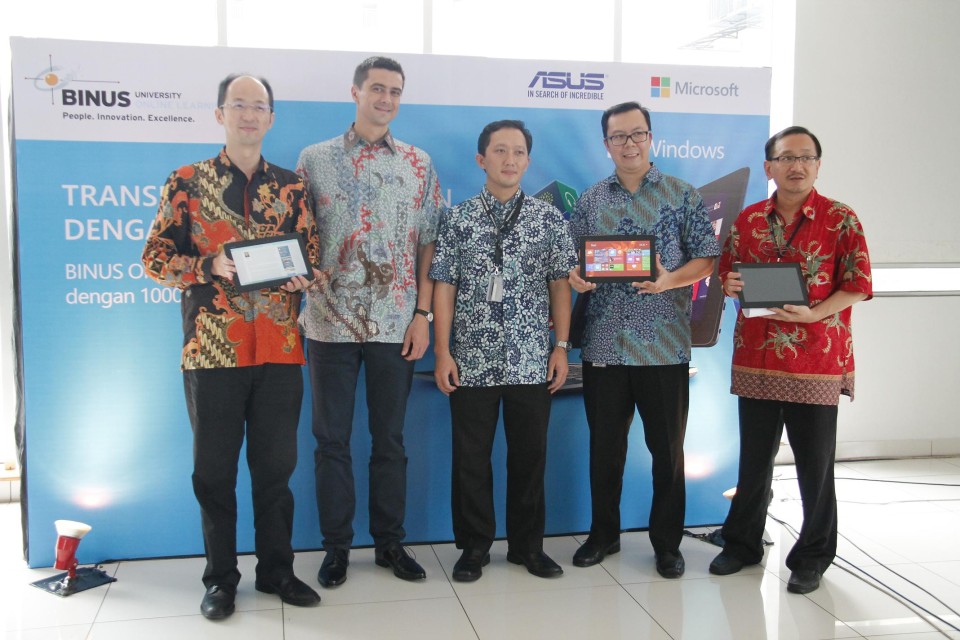 Kehidupan globalisasi yang terjadi di abad 21 menuntut berbagai bidang untuk dapat beradaptasi dengan sistem mobile atau online seperti yang sudah terjadi saat ini melalui transaksi online, pembelanjaan online, maupun kegiatan lainnya yang dilakukan secara online. Perkembangan era globalisasi yang didukung oleh pengalaman dan bekal yang dimiliki BINUS UNIVERSITY di bidang pendidikan, menginspirasi BINUS UNIVERSITY untuk mendirikan BINUS Online Learning (BOL) sejak 2008 silam.
BOL merupakan pembelajaran yang dilakukan melalui website sebagai media belajar tanpa harus terikat dengan jadwal dan waktu tertentu, sehingga tidak mengganggu rutinitas individu. BOL menyediakan program studi untuk Komputerisasi Akutansi (D3), Sistem Informasi (S1), Manajemen Marketing (S1) dan Akuntansi (S1), Magister Teknik Informatika (S2), Magister Manajemen Sistem Informasi (S2) dan MM in Business Management (S2).
Untuk meningkatkan kualitas pendidikan program online learning, BOL melakukan kerjasama dengan Microsoft dan ASUS dalam pengadaan perangkat hybrid berbasis sistem operasi Windows 8.1, ASUS Transformer Book T100.
?Sebagai institusi pelopor pendidikan tinggi berbasis ICT di Indonesia, BINUS UNIVERSITY senantiasa menggunakan teknologi terbaru dalam sistem akademis kami. Hal inilah yang mendasari kerjasama BINUS UNIVERSITY dengan Microsoft dan ASUS dalam memaksimalkan metode pembelajaran di BINUS Online Learning sebagai pelopor pendidikan online di Indonesia?, ujar Prof. Dr. Ir. Harjanto Prabowo, MM selaku Rektor BINUS UNIVERSITY.
Untuk mempublikasikan kerjasama ini, ketiga belah pihak mengundang para media untuk hadir dalam acara Media Briefing 'Transformasi Pendidikan dengan Windows 8.1', yang diadakan di Exhibition Hall Kampus Anggrek pada Jumat (27/6). Acara ini menghadirkan beberapa pihak kepentingan terkait diantaranya adalah Bernard Saisse (Marketing and Operations Director, Microsoft Indonesia), Lucky Gani (Business Group Head, Windows Division, Microsoft Indonesia), Prof. Dr. Ir. Harjanto Prabowo, MM (Rektor BINUS UNIVERSITY), Ivan Sangkereng (IT Director BINUS UNIVERSITY), Agus Putranto (Deputy Director BINUS Online Learning), dan Rex Lee (Regional Director, ASUS South East Asia).
Kerjasama ini melingkupi pemberian 1000 buah ASUS Transformer Book T100 yang dilengkapi dengan Microsoft Office Home and Student 2013 yang terintegrasi dengan layanan penyimpanan cloud OneDrive serta fitur keamanan seperti Windows Defender dan SmartScreen.
?Windows 8.0 pada perangkat tablet seperti ASUS Transformer Book T100 memungkinkan para mahasiswa berkolaborasi secara lebih aman dan melakukan berbagai tugas sekaligus secara nyaman?, jelas Lucky Gani selaku Business Group Head Windows Division, Microsoft Indonesia.
?Kami yakin penggunaan ASUS Transformer Book T100 merupakan langkah penting bagi BINUS UNIVERSITY untuk meningkatkan kualitas program online learning ini ke tingkat yang lebih tinggi. Kami berharap fleksibilitas dan keandalan ASUS Transformer Book T100 dengan dukungan baterai yang dapat bertahan hingga 11 jam yang membantu meningkatkan proses belajar mahasiswa di manapun?, tutup Rex Lee. (AL)
Download :BINUS UNIVERSITY MEWUJUDKAN TRANSFORMASI PENDIDIKAN DI ABAD 21