Kampus ?pintar? dan ?hijau? ala BINUS UNIVERSITY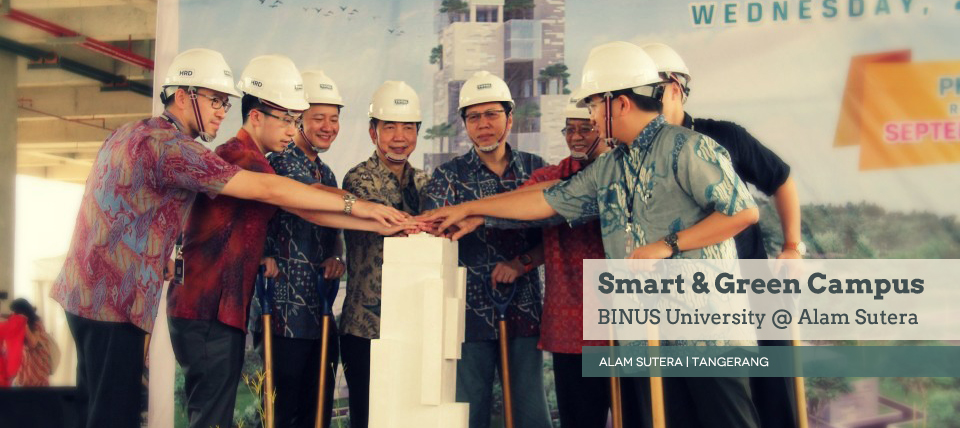 Demi menunjang peningkatan kualitas generasi muda di Indonesia, BINUS UNIVERSITY terus melakukan inovasi baik dalam pengembangan kurikulum, peningkatan kualitas pendidik maupun perluasan menjangkau generasi muda di Indonesia. Menjawab kebutuhan di kota besar ini, BINUS UNIVERSITY mendirikan kampus di daerah Alam Sutera, Tangerang yang sudah dimulai sejak tahun 2012 lalu. Seiring dengan pengembangannya, pada 26 Maret 2014 pembangunan kampus di Alam Sutera tahap 1 telah mencapai tahap akhir.
Untuk meresmikan pembangunan ini, BINUS UNIVERSITY mengadakan acara Topping Off yang diadakan di gedung pembangunan BINUS UNIVERSITY @Alam Sutera. Peresmian gedung ini dibuka dengan Mix Culture Parade yang dibawakan oleh KangNong kota Tangerang, BNMC, HIMJA, HIMANDA, dan pembawaan bendera dari beberapa negara yang diwakili oleh mahasiswa BINUS UNIVERSITY. Dilanjutkan dengan pemaparan mengenai perkembangan pembangunan BINUS UNIVERSITY @Alam Sutera oleh Francis Budiraharja Santoso selaku Managing Director dan dilanjutkan dengan kata sambutan oleh Rektor BINUS UNIVERSITY, Prof. Dr. Ir. Harjanto Prabowo, MM.
Memasuki upacara peresmian gedung, Ir. Bernard Gunawan selaku CEO BINA NUSANTARA memberikan sambutan mengenai pembangunan BINUS UNIVERSITY @Alam Sutera. Dalam sambutannya, beliau menyatakan bahwa dengan adanya BINUS UNIVERSITY di Alam Sutera tentunya akan selalu berupaya berinovasi dalam mewujudkan cita-cita menjadi lembaga pendidikan berkelas dunia. Hal ini sejalan dengan visi BINUS 20/20 yaitu A World-class Knowledge Institution in continuous pursuit of innovation and enterprise.
Acara ini diresmikan dengan penekanan sinere yang dilakukan oleh BINUSIAN Leader secara bersama-sama dan dilanjutkan dengan simulasi penyekopan semen ke dalam bucket semen. Sebagai bentuk konsep kampus ?hijau? yang dibuat BINUS UNIVERSITY @Alam Sutera, pada acara ini BINUSIAN Leader dan perwakilan dari partner BINUS UNIVERSITY melakukan penanaman pohon.
Acara syukuran Topping Off ditandai dengan pemotongan tumpeng. Pemotongan tumpeng pertama dilakukan oleh CEO BINA NUSANTARA yang diberikan kepada Rektor BINUS UNIVERSITY dan dilanjutkan oleh para Managing Director yang diberikan kepada perwakilan perwakilan partner BINUS UNIVERSITY.
Pada kesempatan ini juga hadir beberapa perwakilan dari rekan kerja BINUS UNIVERSITY serta perwakilan dari setiap unit BINA NUSANTARA dan perwakilan dari komunitas-komunitas yang ada di BINUS UNIVERSITY. Kampus yang siap digunakan pada bulan September 2014 ini diharapkan dapat menginspirasi generasi muda dan para pendidik untuk meningkatkan bidang pendidikan di Indonesia melalui suasana kampus yang pintar dengan fasilitas yang disiapkan BINUS UNIVERSITY dan konsep hijau dimana kampus dikelilingi oleh tanaman hijau. (AL)