Memantapkan Langkah BINUS UNIVERSITY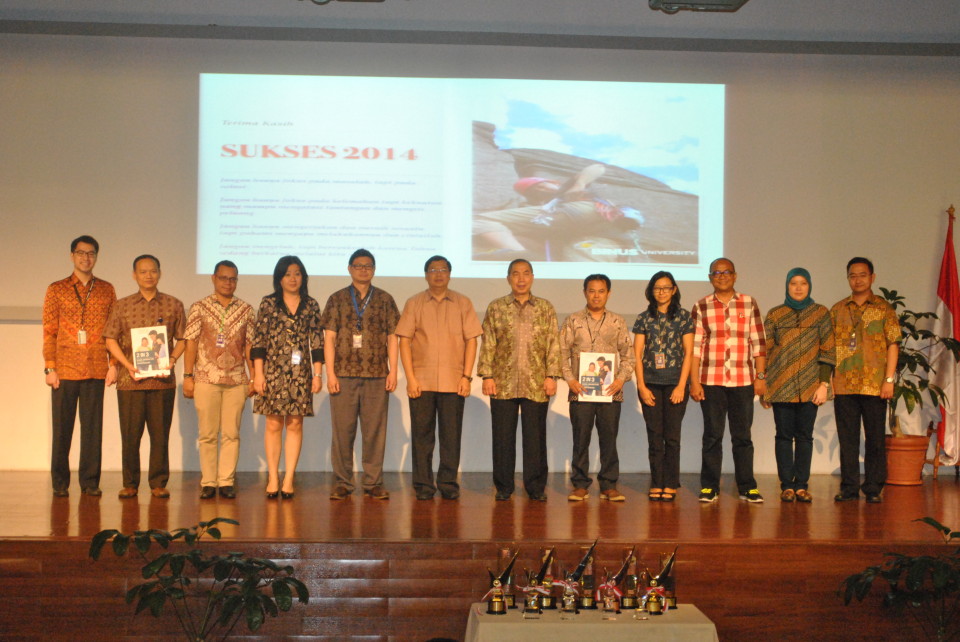 Memantapkan Langkah BINUS UNIVERSITY Menuju Visi
A World-class University, In Continuous Pursuit of Innovation and Enterprise
Memasuki tahun yang baru, semua industri, lembaga, maupun institusi pastinya melihat kembali prestasi apa saja yang telah mereka capai di tahun sebelumnya, serta mereka pun akan merencanakan berbagai bentuk strategi untuk satu tahun kedepan dalam mencapai kesuksesan yang sempat tertunda di tahun sebelumnya. Sebagai institusi pendidikan, BINUS UNIVERSITY berkeinginan untuk menjadi universitas berkelas dunia dengan visi yang sudah ditetapkan sejak tahun 2007 sebagai A World-class University, In Continuous Pursuit of Innovation and Enterprise. BINUS UNIVERSITY selalu berupaya mengembangkan kualitas pendidikan untuk masyarakat.
Jika kita melihat kembali prestasi yang sudah dicapai di tahun sebelumnya, banyak prestasi yang sudah diperoleh oleh BINUS UNIVERSITY sepanjang tahun 2013. Prestasi tersebut diantaranya Indonesian Quality Award yang dimana BINUS UNIVERSITY merupakan satu-satunya perguruan tinggi yang mendapatkan penghargaan tersebut karena telah menerapkan metode berbasis Malcolm Baldridge dalam menjalankan kinerja organisasi, kemudian mendapatkan predikat sebagai Perguruan Tinggi Swasta Unggulan dengan meraih penghargaan untuk 5 kategori sejak tahun 2012 – 2013. Selain itu, BINUS UNIVERSITY juga mendapatkan penghargaan sebagai Best Private University menurut survey dari majalah MIX. Diawal tahun 2014, BINUS UNIVERSITY kembali mendapatkan Akreditasi A untuk jurusan Sistem Komputer dan Sistem Informasi. Akreditasi yang telah diraih semakin memantapkan langkah BINUS UNIVERSITY menuju A World-class University pada BINUS 20/20.
Selain itu, tahun ini pun BINUS UNIVERSITY akan segera mengoperasikan kampus utama BINUS UNIVERSITY @Alam Sutera pada awal tahun ajaran baru periode 2014/2015, dan telah membuka jurusan baru untuk Fakultas Ekonomi dan Ilmu Komunikasi yaitu Mass Communication dan beberapa jurusan lain. BINUS UNIVERSITY terus melakukan percepatan dalam mewujudkan universitas berkelas dunia.
Jangka waktu 6 tahun menuju BINUS 20/20 bukanlah sebuah rentan waktu yang panjang. Tentu waktu tersebut akan terus berjalan semakin cepat menuju visinya. Butuh strategi dan persiapan yang matang dalam mewujudkan visi tersebut. Oleh karena itu, dukungan dan kerjasama dari semua BINUSIAN untuk mewujudkan visi tersebut sangat dibutuhkan.
"Janganlah berfokus pada masalah, tetapi fokuslah pada solusi yang dapat menjawab permasalahan tersebut. Janganlah fokus pada kelemahan yang ada dalam diri kita, tapi berfokuslah pada kekuatan yang mampu mengatasi tantangan dan mampu mengisi peluang", ungkap Prof. Dr. Ir. Harjanto Prabowo, MM selaku rektor BINUS UNIVERSITY. (JR)