ACM-ICPC Asia Jakarta Regional Contest 2012
ACM International Collegiate Programming Contest (abbreviated as ACM-ICPC or just ICPC) is an annual multi-tiered computer programming competition among the universities of the world. The contest is sponsored by IBM. Headquartered at Baylor University, with autonomous regions on six continents, and operates under the auspices of the Association for Computing Machinery (ACM).
BINUS UNIVERSITY, which has moved toward a world-class university, would host one of the Asia Regional Contest. This year is the fourth time BINUS hosts this most prestigious programming contest in Asian region.
Day/Date:
Tuesday-Thursday, 16 – 18 October 2012
Venue:
Auditorium 4th floor, Anggrek Campus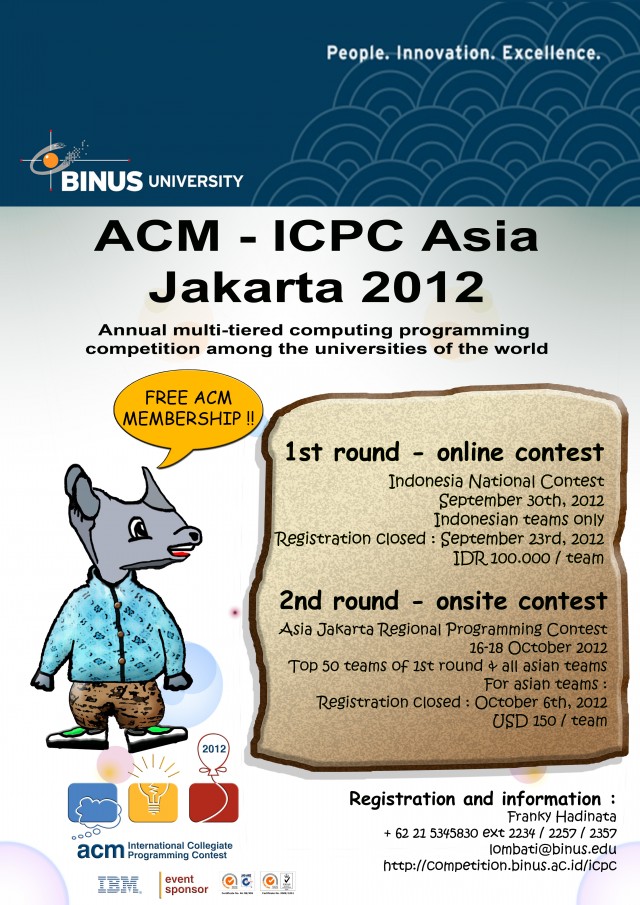 For all inquiries about the contest, please refer to:
Committee of the ACM-ICPC Asia Jakarta Regional Contest 2012
BINUS UNIVERSITY – Syahdan Campus
Jl. KH. Syahdan No. 9, Kemanggisan
Jakarta Barat 11480
Phone: +6221 5345830 Ext. 2188 or 2357
Fax: +6221 530 0244
Email: lombati@binus.edu
Website: https://competition.binus.ac.id/icpc