Info Session BINUS Graduate Program Online Learning
A variety of businesses and industries in Indonesia today require qualified IT experts who are not only experts and very understanding in their field, but also have a strategic and analytical thinking. They are expected to lead and make IT division of the company as a force to win business competitions in the era of globalization.
With excellence curriculum aligned with technology development and benchmarking with international standards, BINUS GRADUATE PROGRAM Online Learning will help to prepare you with the various competencies in the fields of IT and managerial skills that will enable you to emerge as leaders in the future.
Day / Date:
Wednesday, 23 May 2012
Time:
06.30 pm – 08.00 pm
Venue:
Exhibition Hall 3rd Floor, Anggrek Campus – BINUS UNIVERSITY
Speakers:
• Dr. Suharjito, S.Si, MT (Head of Department MTI)
• Dr. Ir. Harisno, MM (Head of Department MMSI)
• Agus Putranto, S.Kom, MT, M.Sc (Deputy Director BINUS ONLINE LEARNING)
Open for public and FREE!!
Prepare yourself as IT Leader!!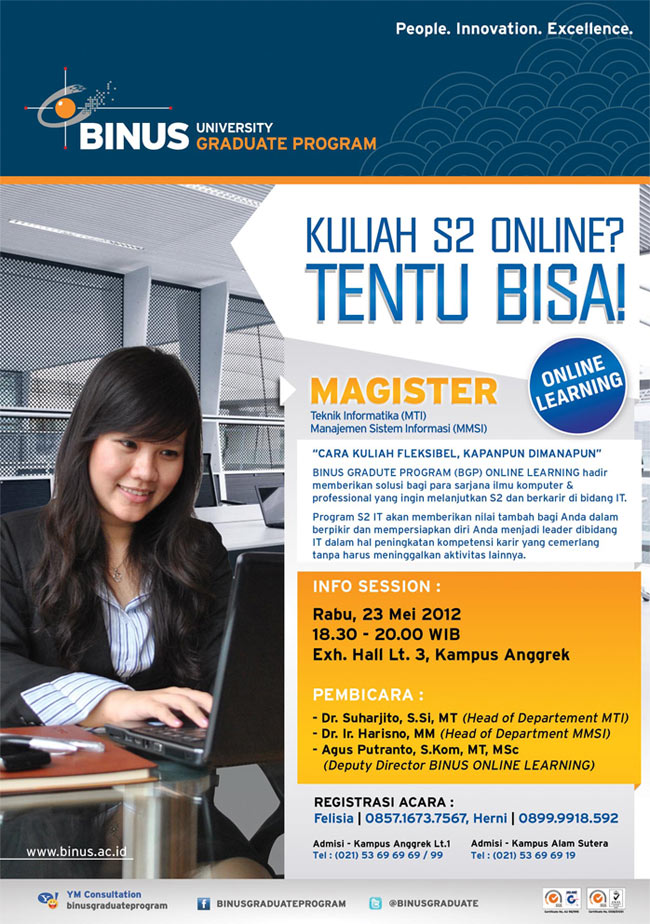 Further information & reservation, contact:
Felisia – 0857 167 37 567 | Herni – 08 9999 18 592
Customer Service
Jl. Kebon Jeruk Raya No.27, Kebon Jeruk
Jakarta Barat 11530
Phone: (021) 534-5830 # 1177
Fax: (021) 535-0655
E-mail: fsweetha@binus.edu
Website: mti.binus.ac.id | msi.binus.ac.id