Biz-Tech Team, Juara Dua APEX Business-IT Global Case Challenge 2012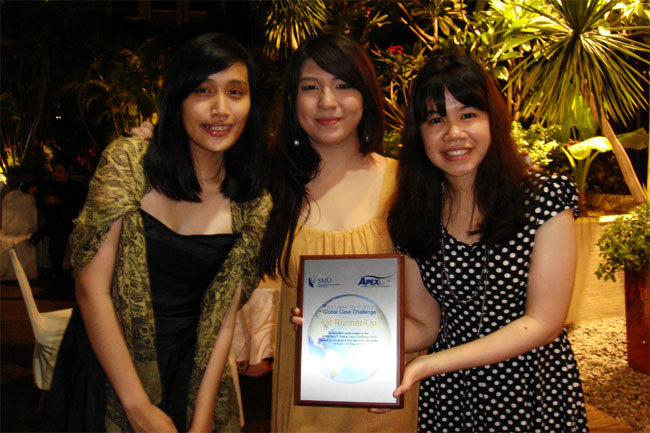 BINUS UNIVERSITY kembali membuahkan prestasi membanggakan. BINUSIAN yang diwakili Biz-Tech Team berhasil meraih juara dua dalam APEX Business-IT Global Case Challenge 2012. Kompetisi ini diselenggarakan Singapore Management University pada 29 April – 3 May 2012.
Tim yang diwakili Rosmiyana (Sistem Informasi/SI), Mesquita (SI), dan Nia Utami (Akuntansi&Sistem Informasi/AKSI) ini merupakan satu-satunya tim dari Asia uang masuk grand final. Sementara itu, berada di peringkat satu adalah Kwantlen Polytechnic University, Kanada. Sedangkan Simon Fraser University, Kanada, menduduki juara tiga.
"Prestasi ini tentu dicapai berkat partisipasi dari banyak pihak, dalam kesempatan ini saya ingin mengucapkan terima kasih kepada para pelatih yang telah membantu memberikan bekal kepada para partisipan dalam masa persiapan lomba," ujar Deputy Head of School – Student and Alumnae Affairs School of Information Systems (SIS), BINUS University, Vina Georgiana.
APEX Biz-IT Global Case Challenge adalah kompetisi bisnis IT internasional tahunan yang diselenggarakan untuk mahasiswa S1. Kompetisi terdiri dari kompetisi kasus utama, kegiatan sosial, dan aktivitas jaringan bisnis.(YD)