MATIC 2011, Kompetisi Matematika-Statistika Bagi Siswa SMA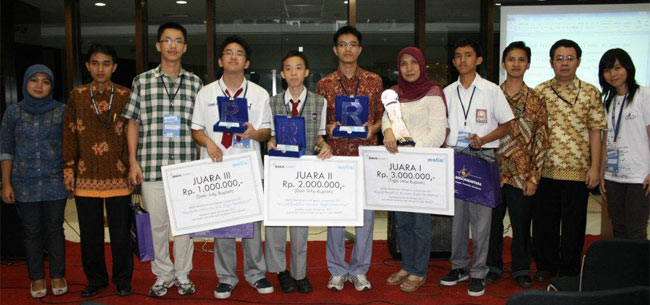 Mathematics & Statistics Department, School of Computer Science BINUS UNIVERSITY dan Himpunan Mahasiswa Matematika (HIMMAT) kembali menyelenggarakan MATIC 2011, Minggu (30/10). Tahun ini Mathematics and Statistics Competition mengambil tema Rapid Reaction Reveals Right Revelation.
MATIC merupakan kompetisi bidang Matematika dan Statistika diikuti siswa-siswi SMA kelas X, XI, dan XII. Pendaftar tahun ini mencapai 269 orang dari seluruh wilayah Indonesia. Dari jumlah tersebut, mereka akan disaring menjadi 50 besar, lima besar, dan selanjutnya peringkat satu hingga tiga.
"Berbeda dari kompetisi pada umumnya, para peserta MATIC mengerjakan soal-soal yang diberikan secara online yang dapat dikerjakan dimana saja selama ada akses internet. Pada babak akhir, jenis lomba seperti cerdas cermat.," urai Muhammad Taufiq Zulfikar, Koordinator Sponsor MATIC 2011.
Fikar menambahkan, melalui MATIC 2011, pihaknya juga ingin memperkenalkan Double Degree Matematika-Statistika di BINUS UNIVERSITY kepada siswa SMA. "Semoga banyak yang masuk jurusan kita," ujar Fikar.(YD)
Inilah para pemenang MATIC 2011:
Bivan Alzacky Harmanto (SMA Labschool Jakarta)
Stefanus (SMAK 1 Penabur Jakarta)
Joshua Adiel Wijaya (SMAK 1 Penabur Jakarta)
Fukent Buntara (SMAK Ipeka Puri Indah)
Muhammad Reza Permana (SMAN 8 Jakarta)