Setelah UI dan Universitas Telkom, Gowes kini hadir di Binus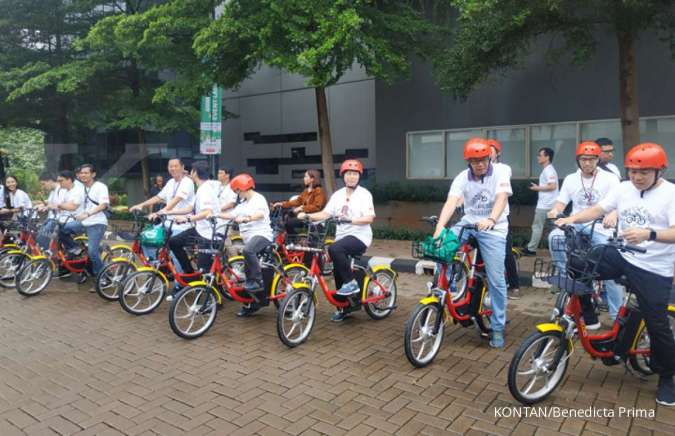 KONTAN.CO.ID – TANGERANG. Gowes ride-sharing platform & application kembali memperluas layanan di kalangan mahasiswa. Gowes menyediakan 60 unit sepeda biasa maupun sepeda listrik di kawasan Universitas Bina Nusantara (Binus) Alam Sutera. Layanan berbagi sepeda dan e-bike ini secara bertahap akan diperluas ke Binus Anggrek, Binus Kijang, Binus Syahdan dan Binus Square.
Sebagai tahap awal, di Binus Alam Sutera, Gowes menyediakan tujuh titik parkir. Layanan ini sejatinya merupakan produk dari PT Surya Teknologi Perkasa, anak usaha dari PT M Cash Integrasi Tbk (MCAS).
"Kami gembira akan sambutan yang sangat baik dari pihak Binus, yang memiliki visi serupa dengan kami untuk lebih mempromosikan konsep ramah lingkungan," kata Iwan Suryaputra, Direktur Utama Surya Teknologi Perkasa, Jumat (10/1).
Baca Juga: Jaya Property gandeng komunitas gelar event B250K
Lebih lanjut, Iwan juga menyampaikan selain si Binus, layanan ini sudah ada di beberapa universitas seperti Universitas Indonesia (UI) dan Universitas Telkom. Ke depan, Gowes masih akan terus melakukan ekspansi dengan merambah fasilitas-fasilitas publik seperti pusat pariwisata, kawasan perkantoran, kawasan kampus dan kawasan pusat transportasi.
Hal senada diungkapkan oleh Managing Director Binus Michael Wijaya Hadipoespito. "Sejalan dengan visi Binus fostering and empowering society in building and serving the nation, kami menyambut baik kerja sama ini sebagai alternatif transportasi yang ramah lingkungan dan mempromosikan gaya hidup yang lebih sehat," jelas dia.
Gowes ride-sharing platform merupakan pengembangan dari produk utama Surya Teknologi Perkasa yaitu tracking device & digital Indonesia Map. Di mana internet of thing (IoT) telah diaplikasikan pada armada milik Gowes, sehingga pengguna tidak harus mengembalikan di titik tertentu. Pengguna hanya tinggal meletakkan di mana saja selama masih di kawasan operasional Gowes. Layanan ini juga didukung oleh jaringan dan infrastruktur milik Telkomsel.
Saat ini, armada Gowes sudah tersebar di Bali yaitu di area Kuta, Legian, Sanur, Nusa Dua, dan kawasan Garuda Wisnu Kencana (GWK). Sedangkan di Jakarta dan sekitarnya tersebar di area Monumen Nasional (Monas), Gelora Bung Karno (GBK), Taman Impian Jaya Ancol (TMII), dan Kebun Raya Bogor. Selain itu ada juga di Bandung dan Semarang. Gowes juga hadir di lokasi pemukiman di Jakarta seperti Bintaro Jaya dan Nava Park BSD City.
Sumber : https://industri.kontan.co.id/news/setelah-ui-dan-universitas-telkom-gowes-kini-hadir-di-binus