BINUS DALAM SEPEKAN (10 – 16 JANUARI 2020)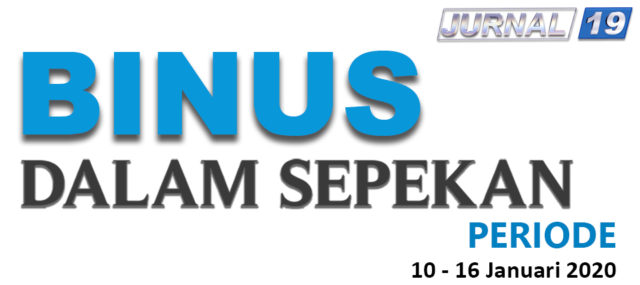 IGN Talks Keanggotaan Indonesia di Dewan HAM PBB

Departemen International Relations Binus bekerja sama dengan International Global Networks atau IGN menyelenggarakan diskusi publik IGN Talks. Acara ini menghadirkan 4 pembicara yang akan membahas sebuah isu terkini menyangkut perkembangan diplomasi Indonesia di kancah dunia.
Teach For Indonesia BINUS Menggalang Bantuan untuk Bencana Banjir Lebak

Menanggapi bencana banjir dan longsor di Lebak Banten, Binus bersama TFI mengunjungi tempat pengungsian pada Jumat, 10 Januari 2020. Dalam kunjungan ini Teach For Indonesia memberikan bantuan moril dan barang-barang yang sekiranya dibutuhkan oleh para pengungsi.
Gowes Hadir di BINUS University di Tahun 2020

Binus dengan visi Fostering And Empowering The Society di awal tahun 2020 bekerja sama dengan Gowes sebagai Ride-Sharing Platform & Application untuk menyediakan layanan gowes di seluruh kampus Binus, dimulai dari Alam Sutera, Kemanggisan dan Binus Square. Kerjasama ini diharapkan dapat menjadi salah satu cara menyadarkan masyarakat untuk hidup sehat dan mengurangi mencemaran udara.
Menuju Green Campus sebagai Gaya Hidup Masa Kini dengan BINUS x GOWES

Hari Lingkungan Hidup Indonesia yang diperingati di tanggal 10 Januari menjadi dasar mengingatkan kita sebagai individu untuk menjaga kelestarian dan keberlangsungan lingkungan dan makhluk hidup yang semakin hari semakin terancam.  Binus menggelar acara talkshow dengan mengangkat tema " Menuju Green Campus: Gaya Hidup Masa Kini (Masa Gitu)? yang dihadiri oleh mahasiswa, pelaku usaha, pengajar dan juga komunitas pemerhati lingkungan .
 Sampaikan Pesan melalui Karya Desain Interior

Hari Rabu 14 Januari 2020, Jurusan Desain Interior mengadakan pameran sebagai project tugas mandiri, dalam mata kuliah Sense Of Design. Dalam setiap karya yang dipamerkan memiliki pesan dan makna untuk disampaikan, dan karya-karyanya menggunakan bahan bekas.
Pameran Kreatif Design Interior dari School of Design BINUS University

Pada tanggal 15 Januari 2020, School Of Desain Binus University kembali mengadakan pameran karya seni hasil dari mahasiswa binus jurusan desain interior semester 1, 3 dan 5.