BINUS DALAM SEPEKAN (4 – 10 OKTOBER 2019)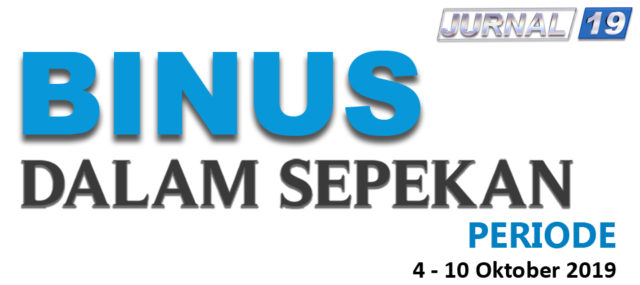 Andy Budiman Berbagi mengenai Transformasi Kompas Gramedia Media
Perkembangan dunia konvensional ke arah digital pastinya mempengaruhi berbagai industri, salah satunya adalah industri media. Bagaimana transformasi Kompas Gramedia menghadapi perkembangan ini dibagikan kepada mahasiswa Binus dalam acara Studium Generale pada 3 Oktober lalu.
Pameran Display Hiasi Tiga Titik Kampus BINUS Anggrek
Tidak hanya terletak di Binus Syahdan, jurusan desain interior SOD Binus hingga kini juga masih menyelenggarakan pameran display batik produk UMKM, dan karya furnitur mahasiwa di sejumlah titik di Kampus Binus Anggrek. Mulai dari titik pertama yaitu di depan perpustakaan, terdapat 2 display yang berbeda yaitu infinite journey of batik dan the cage of batiknesia. Infinite journey of batik memiliki konsep yang memadukan ornamen sayap dan awan serta batik bermotif megamendung yang memang berkaitan dengan ornamen yang digunakan.
Tokopedia Goes to Campus Bagikan Pengalaman Bidang Data dan Beasiswa
Tokopedia dan Binus University mengadakan acara Tokopedia Goes To Campus yang dihadiri para ahli pada bidang data Tokopedia. Seminar yang bertemakan "machine learning end-to-end: real world application" membahas seputar pekerjaan data scientist, machine learning, dan data engineer.
Mengenal Lebih Dalam Digital Technology bersama Grab
Melihat perkembangan dunia digital khususnya dibagian teknologi sudah tidak diragukan lagi, kini Binus mengajak Grab Indonesia sebagai salah satu perusahaan yang bergerak di digital technology untuk berdiskusi. Hal yang dibahas salah satunya adalah perkembangan Grab. kira-kira bagaimana Grab bisa berkembang pesat bersaing di dunia online transportation?