Inaugurasi BINUSIAN 2023; Melantik 12.000 Mahasiswa Baru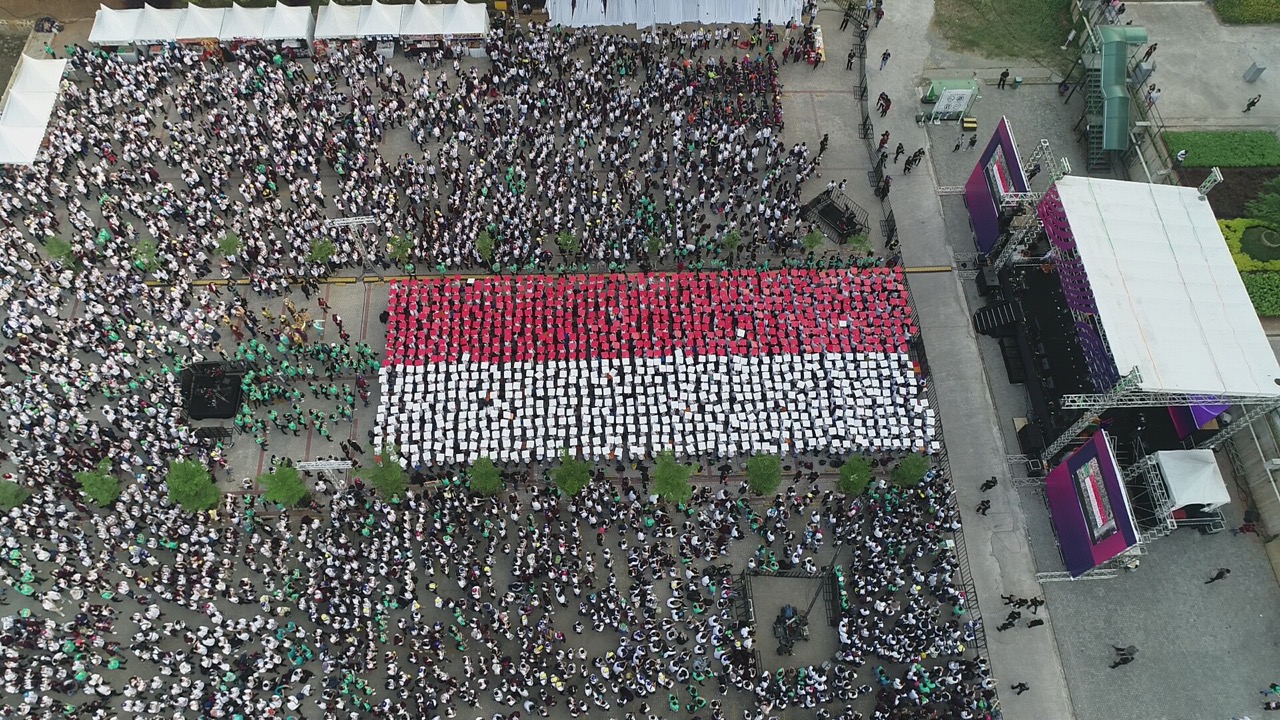 Jakarta, 14 September 2019 – Lebih dari 12.000 Mahasiswa baru BINUS UNIVERSITY resmi dilantik dan bergabung dalam komunitas BINUSIAN. Pelantikan mahasiswa baru tersebut menjadi bagian dalam acara Inagurasi BINUSIAN 2023. Acara yang diadakan serentak di tiga kampus yaitu BINUS @Alam Sutera, BINUS @Bandung, serta BINUS
@Malang ini diikuti oleh mahasiswa baru (BINUSIAN 2023) dari berbagai kampus, seperti dari BINUS @Alam Sutera, BINUS @Kemanggisan, BINUS@Senayan, dan BINUS@Bekasi, BINUS  @Bandung,  dan  BINUS  @Malang  dengan  jumlah  lebih  dari 12.000 mahasiswa baru.
Inaugurasi BINUSIAN 2023 ini merupakan puncak dari rangkaian First Year Program (FYP) yang terdiri dari General Orientation dan Academic Orientation. Pada General Orientation, Freshmen diperkenalkan sikap dan perilaku positif terhadap kehidupan perkulihan di BINUS UNIVERSITY. Sedangkan selama Academic Orientation, Freshmen dipersiapkan dengan berbagai materi yang dapat membantunya untuk menemukan strategi belajar yang sesuai dengan jurusan yang dijalaninya.
Acara ini dibuka oleh parade yang berturut-turut dilakukan oleh Pimpinan, Dosen, serta Mahasiswa baru Kampus BINUS @Bandung, BINUS @Malang, dan ditutup oleh BINUS @Alam Sutera. Selain itu mahasiswa baru di BINUS @Alam Sutera menampilkan atraksi "human configuration" yang membentuk sekitar 17 formasi tulisan dan gambar, seperti bendera Indonesia, nama-nama kampus, BINUSIAN Values, hingga maskot BINUS yaitu lebah.
Acara puncak yaitu pelantikan BINUSIAN 2023 oleh President of BINUS Higher Education serta Rektor BINUS UNIVERSITY dengan prosesi mengenakan jas almamater dan pengucapan janji BINUSIAN yang dilakukan serentak oleh seluruh mahasiswa baru di tiga kampus BINUS. Selain itu diadakan pemberikan penghargaan Beasiswa Widia kepada 11 mahasiswa berprestasi serta 5 BINUS World Class Equity Scholarship bagi mahasiswa asing yang kuliah di BINUS UNIVERSITY.
Dalam sambutannya, President of BINUS Higher Education-Bapak Stephen Wahyudi Santoso mengemukakan harapannya bagi BINUSIAN 2023 menjadi generasi muda masa depan yang dapat melakukan visi Fostering & Empowering, dengan memberikan kontribusi nyata dalam mendidik, memperkaya, dan memberdayakan masyarakat untuk
Indonesia yang lebih baik. "Selamat bergabung ke dalam komunitas BINUSIAN, Sukses untuk studi anda semua. Dan sampai jumpa di wisuda kalian di tahun 2023!", ucapnya menutup sambutan.
Acara ditutup dengan berbagai hiburan yang dilakukan oleh UKM Dance-STAMANARA, serta pertunjukan musik dari JAZ dan DJ Alffy Rev.