Asian Conference on Intelligent Information and Database Systems (ACIIDS 2019) ke 11 di Yogyakarta Resmi di Buka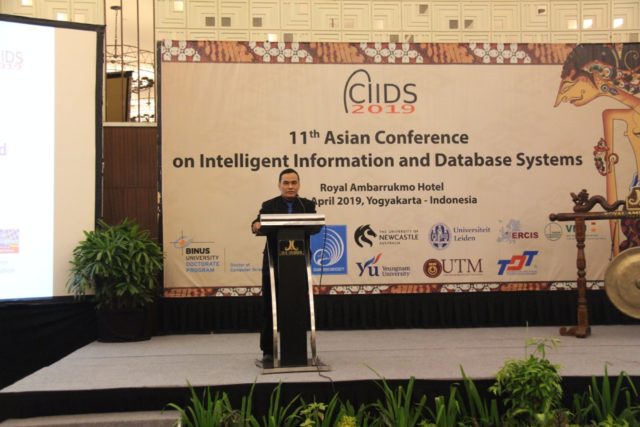 Yogyakarta (8/4/19), BINUS Doctor of Computer Science menyelenggarakan 11th Asian Conference on Intelligent Information and Database Systems (ACIIDS 2019) pada 8 – 11 April 2019 di Hotel Royal Ambarrukmo Yogyakarta, Indonesia. ACIIDS 2019 merupakan konferensi ilmiah internasional untuk penelitian di bidang sistem informasi dan basis data yang cerdas.
Kegiatan ini di buka langsung oleh Chairman dari BINUS Doctor of Computer Science, Dr Ford Lumban Gaol dan juga Chairman dari Worclaw University of Science and Technology Poland, Ngoc Thanh Nguyen. ACIIDS 2019 hari pertama di hadiri oleh 157 peserta dari kurang lebih 30 negara asia maupun eropa.
Setelah pembukaan kegiatan pun di lanjutkan dengan pemberian materi oleh keynote speaker yaitu Prof. Hamido Fujita – Director of Intelligent Software Systems Iwate Prefectural University, Japan. Beliau memaparkan materi dengan tema New Challenges in Machine Learning : Multiclass-Classification for Risk Peediction in Health Care Aplication dimana beliau menjelaskan bagaimana big data berperan besar dan penting dalam hal ini.
Kegiatan selanjutnya cukup menarik yaitu Poster Session. Kegiatan tersebut merupakan presentasi hasil paper ilmiah dari para peserta yang di presentasikan menggunakan poster dan di jelaskan langsung kepada para akedimisi maupun para peserta yang hadir. Kegiatan ini cukup menarik karena apa yang di presentasikan oleh pembuat paper sangat bersifat teknis dan berkesinambungan dengan tren saat ini. Di saat yang bersamaan pun dilaksanakan Parallel Session. Parallel Session dibawakan langsung di 4 tempat bereda yang sudah di sediakan oleh panitia. Adapun sesi 1 ini dibawakan dari 4 negara yaitu Malaysia, Taiwan, Indonesia dan Perancis kemudian dilanjutkan dengan sesi 2 dibawakan dari 3 negara tidak sama seperti sesi seblemunya dan adapun negara yang berpartisipasi pada sesi 2 ini adalah Kanada, Polandia dan Taiwan. Setelah sesi 2 selesai dilanjutkan dengan sesi 3 dan yang memberikan materi yaitu berasal dari negara Jerman, Republik Ceko, Malaysia dan Polandia.
Setelah semua sesi tersebut hari pertama pun di tutup dengan kegiatan Networking Dinner pada malam hari. Kegiatan diikuti oleh peserta dan juga industri. Kegiatan ini memliki tujuan agar para peserta dapat saling berkenalan bahkan bisa bekerjasama terkhusus dalam kegiatan akademik yang juga ada kaitannya dengan industri.
Acara yang berlangsung hingga tanggal 11 April ini dihadiri oleh professional dan akademisi yang berkarya di bidang Computer Science dari berbagai belahan dunia, juga dihadiri oleh mahasiswa BINUS Doctor of Computer Science. 
Bagi mahasiswa BINUS Doctor of Computer Science, mengikuti konferensi ini memberikan mereka international experience dan juga meningkatkan knowledge terkait research di bidang computer science.