4116 Lulusan BINUS Siap Membangun Indonesia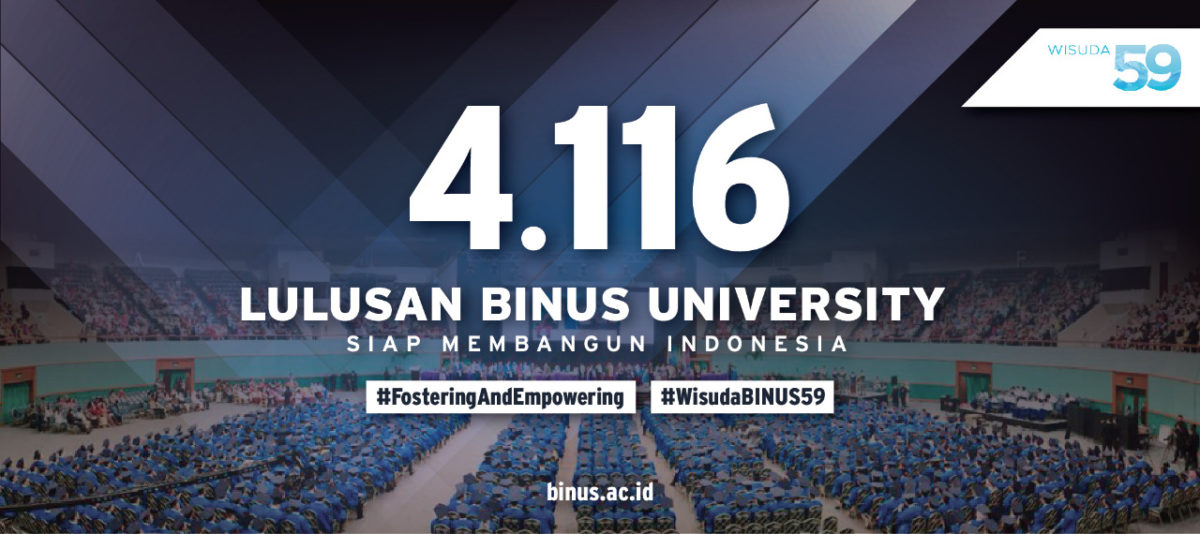 Nonton Live Streaming Wisuda 59. Langsung saja klik tombol di bawah ini. Live streaming dimulai pada pukul 07.30 WIB, 12 Desember 2018
Jakarta, 12 Desember 2018 – BINUS UNIVERSITY kembali menyelenggarakan wisuda yang ke59
pada Rabu dan Kamis, 12 – 13 Desember 2018 yang bertempat di Jakarta Convention
Center, Jakarta. Dalam wisuda ini BINUS UNIVERSITY melepaskan sebanyak 4.116 lulusan dan
menjadi wisuda dengan jumlah lulusan terbanyak sepanjang sejarah BINUS UNIVERSITY.
Wisudawan tersebut terdiri dari 6 lulusan S3, 7 lulusan Program Profesi Insinyur, 125 lulusan
S2 Reguler, 114 lulusan S2 Internasional, 3.550 lulusan S1 Reguler, 199 lulusan S1
Internasional, 6 lulusan S1 BINUS ASO School of Engineering, 108 lulusan D4, dan 1 lulusan D3.
Lulusan Wisuda 59 ini akan menambah komunitas Alumni BINUS UNIVERSITY sehingga
menjadi 109.538 orang yang diharapkan memberikan kontribusi positif kepada nusantara dan
dunia. Dari jumlah Wisudawan tersebut, terdapat 24 orang Wisudawan dengan predikat
Summa Cumlaude, dengan IPK lebih dari 3.90 dan 4 orang di antaranya meraih Penghargaan
BINUS Award of Excellence dengan meraih IPK Sempurna 4.00. Selain kategori tersebut,
terdapat juga WIBOWO Award – diperuntukkan bagi wisudawan S1 yang berprestasi secara
akademik IPK Tinggi (di atas 3.5), dan aktif dalam kegiatan organisasi kemahasiswaan di
lingkungan BINUS UNIVERSITY. BINUSIAN Award – diperuntukkan bagi wisudawan S1 yang
berprestasi secara akademik IPK Tinggi (di atas 3.5), memiliki inovasi yang tinggi dalam karyakarya
yang dihasilkan, dan aktif dalam kompetisi-kompetisi/kegiatan ilmiah tingkat Nasional
atau Internasional dengan membawa nama baik BINUS UNIVERSITY. Selain itu ada juga
kategori BINUS Alumni Recognition Award – diberikan kepada Alumni yang mempunyai
kontribusi dalam pengembangan kerjasama dengan BINUS UNIVERSITY, diberikan dalam dua
kategori yaitu sebagai "entrepreneur" dan sebagai "employee".
Dengan bekal pendidikan berkualitas global yang berorientasi pada employability and
entrepreneurship, BINUS UNIVERSITY berkomitmen melahirkan generasi muda yang mampu
melakukan perubahan dalam masyarakat sesuai dengan semangat BINUS Higher Education
yaitu "Fostering and Empowering in Building and Serving the Nation". Mendidik dan
memberdayakan bangsa untuk Nusantara dan Global yang lebih maju.
"Selamat kepada para BINUSIAN yang resmi diwisuda pada pada hari ini. Terus kembangkan
kemampuan dan semangat dalam mengejar cita-cita dengan tidak lupa memberikan
kontribusi positif bagi masyarakat, bangsa, dan Negara". Ujar Prof. Harjanto Prabowo – Rektor
BINUS UNIVERSITY akan harapannya terhadap para wisudawan.