MEREKA YANG BELAJAR HINGGA KE BINUS UNIVERSITY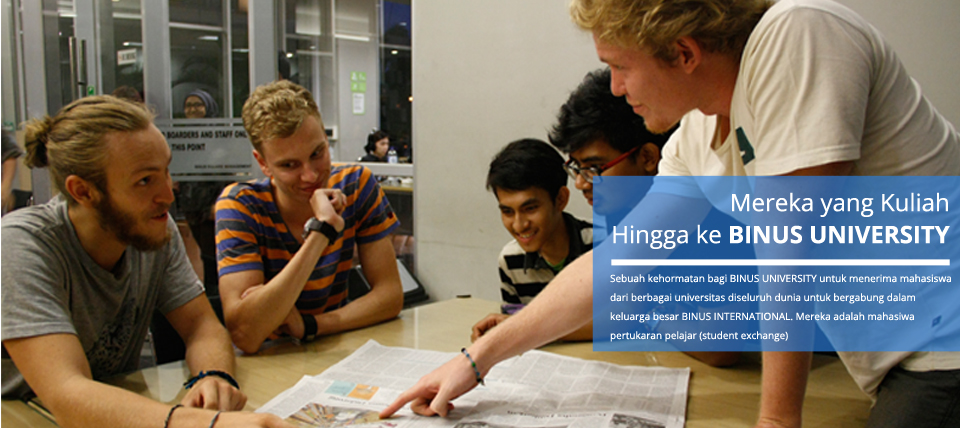 Sebuah kehormatan bagi BINUS UNIVERSITY untuk menerima mahasiswa dari berbagai universitas diseluruh dunia untuk bergabung dalam keluarga besar BINUS UNIVERSITY. Mereka adalah mahasiwa-mahasiswa pertukaran pelajar (student exchange) yang saat ini ada ditengah-tengah kita dan mengikuti kuliah bersama BINUSIAN lainnya. Tercatat ada 56 mahasiswa luar yang saat ini mengikuti perkuliah di BINUS UNIVERSITY. Dari 56 mahasiswa tersebut, sebanyak 9 mahasiswa tersebar di BINUS UNIVERSITY, sebanyak 46 mahasiswa kuliah di BINUS INTERNATIONAL dan 1 mahasiswa di BINUS BUSINESS SCHOOL.
Hadirnya mahasiswa asing ditengah BINUSIAN selama satu semester ini merupakan salah satu upaya BINUS UNIVERSITY untuk berbenah menjadi ?A World-class University, In continuous pursuit of innovation and enterprise?. Kehadiran mereka juga diharapkan dapat membawa hal-hal positif bagi BINUSIAN mengenai keberanian dan semangat untuk mengejar pendidikan hingga ke negeri asing.
Ditemui pada Selasa (7/4), Jasper Kort mahasiswa dari HAN University of Applied Science Netherland dan Kostiantyn Turchok dari The University of Tartu Estonia berbagi sedikit cerita mengenai pengalaman mereka selama hampir dua bulan mengikuti kuliah di BINUS UNIVESITY dan hidup ala BINUSIAN. Dalam ceritanya Jasper mengungkapkan bahwa hanya dalam dua bulan saja ia sudah merasa kalau pengalaman pertukaran pelajar ini akan menjadi pengalaman yang tak terlupakan baginya. Senada dengan Jasper, Kostian juga bercerita bahwa pengalaman kuliah di BINUS INTERNATIONAL merupakan pengalaman yang unik, yang akan terus dikenangnya, bukan hanya karena pendidikannya namun juga dengan keanekaragaman budaya Indonesia yang sangat mempesona.
Pada kesempatan yang berbeda; Mohamad Haziq bin Mohamad Roslan dari Universiti Teknologi Mara Malaysia, Nicolaas Kimman dari SPJ School of Global Management, Leland Hubbard dari University of Montana, Husnie Shahriza Bin Shari dari Universiti Teknologi Mara Malaysia dan Ths Levert dari HAN University of Applied Science juga mengungkapkan bahwa mereka sangat menikmati kuliah di Indonesia. Bagi mereka BINUS UNIVERSITY merupakan tempat yang sangat hangat dan terbuka bagi mahasiswa asing. Mereka dapat dengan mudah beradaptasi dan menyukai lingkungan BINUS UNIVERSITY.
Agar mereka tetap nyaman selama mengikuti kuliah, BINUS UNIVERSITY menyediakan sarana tempat tinggal di BINUS Square dan transportasi shuttle khusus yang melayani perjalanan mereka dari Binus Square menuju kampus. Dalam ceritanya, mereka semua mengungkapkan bahwa mereka tidak menyangka bahwa fasilitas yang disediakan oleh BINUS UNIVERSITY sedemikian lengkap. (IV)