BINA NUSANTARA PERKUAT NILAI-NILAI BUDAYA MENUJU KELAS DUNIA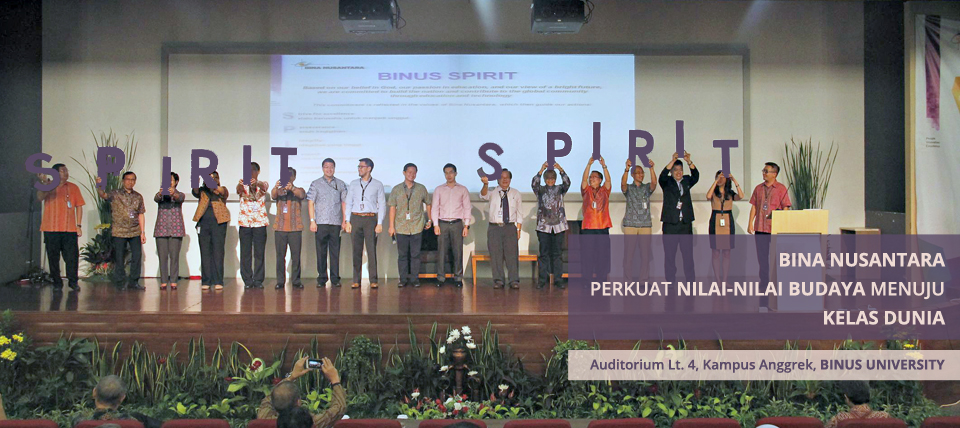 Sudah menjadi hak karyawan untuk mendapatkan informasi dari perkembangan perusahaannya. Hal inilah yang dilakukan BINA NUSANTARA melalui TOWN HALL MEETING yang diadakan pada Senin (15/12) lalu yang bertempat di Auditorium Kampus Anggrek. Acara ini dihadiri oleh karyawan BINA NUSANTARA dari berbagai bisnis unit.
Acara yang bertajuk ?Toward More Challenging Future? ini berperan untuk membekali BINUSIAN akan pengetahuan mengenai perkembangan yang sudah dan akan BINA NUSANTARA lakukan. Tidak hanya pengembangan secara internal, BINA NUSANTARA juga memberikan sharing session mengenai perkembangan dunia di era globalisasi dengan tema Tantangan dan Peluang Organisasi Menghadapi AEC/AFTA 2015 yang dibawakan oleh Yulia Yasmina perwakilan dari Accenture.
Selain itu BINA NUSANTARA juga menginformasikan lahirnya suatu nilai-nilai budaya (value) baru yang akan menjadi fondasi untuk BINA NUSANTARA menuju kelas dunia. ?Dari tahun ke tahun, BINA NUSANTARA semakin tumbuh dan berkembang melahirkan unit-unit bisnis baru. HaI inilah menjadi alasan mengapa hari ini kita perlu melahirkan nilai-nilai budaya baru. Value baru yang lahir hari ini tidak begitu berbeda dengan value yang telah kita tanamkan sebelumnya. Untuk mendorong semangat percepatan maka perlu adanya pembaharuan dalam value BINA NUSANTARA agar lebih relevan dengan strategi terkini organisasi.? Ujar Bernard Gunawan selaku CEO BINA NUSANTARA ditengah-tengah pidatonya.
Lahirnya nilai-nilai budaya yang baru ini diresmikan dengan dipanggilanya 12 BINUSIAN Leader yang membawa 6 huruf bertulisan ?SPIRIT? dengan 2 bahasa yaitu Indonesia dan inggris. ?SPIRIT? sendiri terdiri dari Strive for excellence, Perseverance, Integrity, Respect,Innovation dan Teamwork. Ke-12 huruf diberikan kepada perwakilan karyawan yang sudah mendedikasikan tenaga dan waktunya untuk BINA NUSANTARA. Penyerahan huruf ini merupakan simbolis semangat yang BINUSIAN Leader transfer kepada para karyawannya untuk menggerakan BINA NUSANTARA menuju visinya BINUS 20/20.
Selain BINUS Value, pada kesempatan ini juga di launching BINUS Core Competencies yaitu Service of Excellence, People Development, Bussiness Equipment, dan Operational Excellence yang disingkat menjadi ?SIP BOs?. Acara dilanjutkan dengan BINUS Star of Excellence dan komunikasi bersama CEO dan Board of Management BINA NUSANTARA.
Dipenghujung acara, BINA NUSANTARA membagi-bagikan doorprize berupa Voucher belanja, iPod Shuffle, Ear Hang Microphone, Printer Fuji Xerox,LED TV 32?, dan iPhone 6. Acara ini diharapkan dapat mengakrabkan antara BINUSIAN dengan perkembangan BINA NUSANTARA dan BINUSIAN Leader sehingga komunikasi yang terjalin semakin baik. (AL)