BINUS UNIVERSITY Meluncurkan Program Baru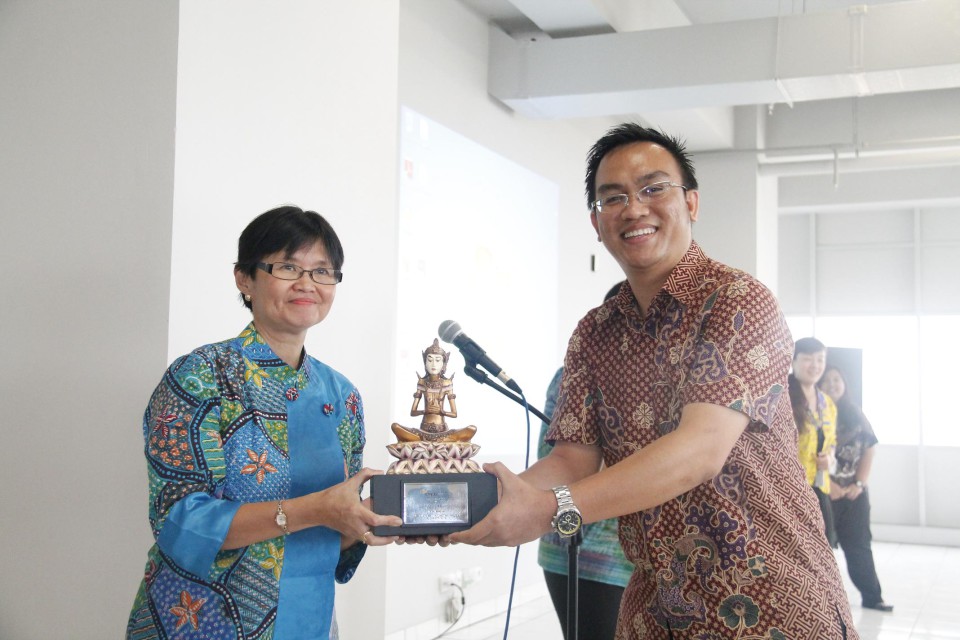 Ilmu pengetahuan dan teknologi dalam memproduksi makanan yang lebih sehat dan aman dengan kandungan nutrisi yang pas sangat diperlukan saat ini untuk mencapai ketahanan pangan yang lebih stabil dan berkelanjutan. Untuk itu, sebagai salah satu institusi pendidikan yang memiliki tanggung jawab dalam mendidik generasi muda untuk siap bersaing dalam dunia kerja terutama industri pangan, maka BINUS UNIVERSITY membuka program studi Food Technology yang ditandai dengan terselenggaranya International Seminar ?The Role of Science and Technology in Promoting Food Quality, Safety and Nutrition Towards Food Sovereignty? dan peluncuran buku ?Riset dan Pengembangan Produk Baru?, pada Kamis (21/8) bertempat di Aula lantai 9, Main Campus BINUS UNIVERSITY @Alam Sutera dan menghadirkan sebanyak 150 peserta yang terdiri dari siswa SMA, mahasiswa, dosen, peneliti, ahli dalam bidang pangan, serta industri dalam bidang teknologi pangan.
Menghadirkan para pakar dalam bidang teknologi pangan diantaranya Diane M Barrett Ph.D. (University of California, Davis, USA), Dr. Roy Sparringa (BPOM RI), Prof. Dedi Fardiaz (SEAFAST Center, Dept. Ilmu Teknologi & Pangan, Institut Pertanian Bogor) sebagai Keynote Speakers, Prof. Kapti Rahayu Kuswanto (Rektor Universitas Slamet Riyadi), Mr. Viktor Basuki (Regulatory & Scientific Affars, PT DuPont Agricultural Products Indonesia), Prof. Rindit Pambayun Hariyadi (SEAFAST Center, Dept. Ilmu Teknologi & Pangan, Institut Pertanian Bogor), Prof Hidefumi Yoshii (Kagawa University Japan), Prof. Bahtiar S. Abbas, PhD (Vice Rector Research & Technology Transfer), dan Dr. Ingrid S Surono (Head of FoodTech Department, BINUS UNIVERSITY), sebagai pembicara.
Tidak terhenti pada poin penyelenggaraan international seminar yang menghadirkan pakar teknologi pangan dari dalam dan luar negeri saja, namun untuk memperkuat rasa kepedulian terhadap perkembangan teknologi pangan saat ini maka Dr. Ingrid S. Surono, MSc.; Prof. Ir. Bahtiar S. Abbas, MSc., PhD.; serta Priyo Waspodo Ir. MSc. bersama-sama mendedikasikan hidup mereka dalam menuangkan segala pengetahuan, ide, konsep, dan pengalaman dalam bidang teknologi pangan yang mampu menciptakan suatu metode praktis untuk industri pangan dan tercetak dalam suatu buku yang berjudul ?Riset dan Pengembangan Produk Baru?.
Buku yang baru saja diluncurkan berkat kerjasama dengan internal publisher yang bernama BINUS Media & Publishing ini menjelaskan mengenai konsep serta metode praktis yang dapat diterapkan bagi pemain baru maupun pemain lama yang ingin melakukan inovasi dalam mengembangkan produk yang dihasilkan. Terdapat 15 pokok bahasan yang sangat penting diperhatikan dalam mengembangkan produk baru ini. Mulai dari mencari ide dan menyusun konsep produk baru, menyeleksi produk unggulan, desain produk, melakukan riset dan pengembangan produk, penentuan masa kadaluarsa, hingga menganalisa kelayakan produk baru dan mendapatkan sertifikasi produk pangan. Ulasan singkat ini dijelaskan oleh Priyo Waspodo yang merupakan salah satu dari penulis.
?Tujuan kami menyelenggarakan seminar internasional ini adalah untuk menyebarluaskan mengenai peran ilmu dan teknologi pangan terhadap ketahanan pangan, untuk menginformasikan mengenai isu terbaru dalam hal ketahanan pangan, mengumpulkan masukan para ahli Food Technologist, serta mengeksploitasi keanekaragaman hayati Indonesia untuk pemanfaatan sebagai bahan makanan?, jelas Dr. Ingrid S Surono selaku Head of Departement Food Technology, BINUS UNIVERSITY. (JR)