Kontribusi BINA NUSANTARA dalam Industri Kreatif berkelas dunia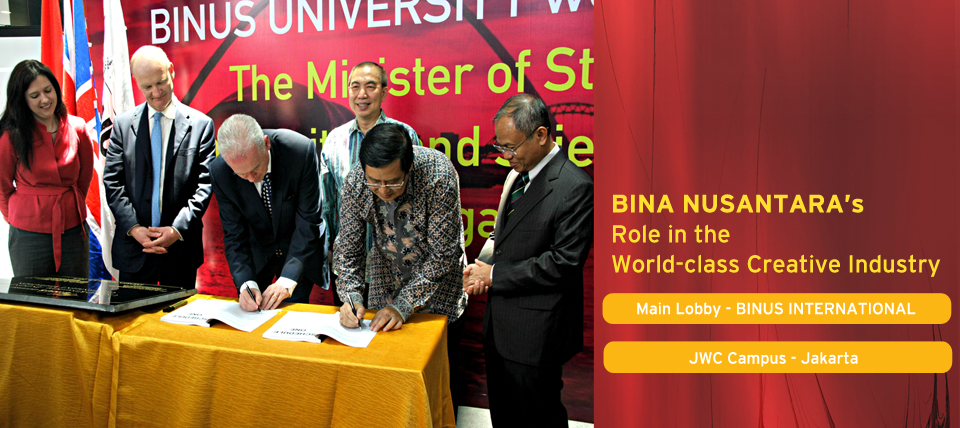 BINA NUSANTARA melalui BINUS INTERNATIONAL melakukan kerjasama dengan Northumbria University nyatanya tidak hanya mendapat dukungan sepihak dari Presiden Susilo Bambang Yudhoyono melalui studi bandingnya ke Inggris bersama rector BINUS UNIVERSITY, Prof. Dr. Ir. Harjanto Prabowo, MM yang dimulai pada tahun 2012 lalu. Namun, kerjasama pendidikan untuk program School of Design tersebut juga mendapat dukungan sepenuhnya dari Minister of State for Universities and Science of United Kingdom, The Rt Hon David Willetts MP.
Dukungan tersebut dinyatakan dalam kunjungannya ke BINUS INTERNATIONAL yang didampingi oleh Prof. Andrew Wathey (Vice-Chancellor, Northumbria University) untuk menandatangani perjanjian kerjasama di Kampus Joseph Wibowo Center pada 04 Maret 2014. Peristiwa membanggakan tersebut jelas semakin menambah catatan sejarah bagi BINUS INTERNATIONAL dalam mengepakkan sayap partnership yang mendunia.
Dalam keterangan persnya, Rektor BINUS UNIVERSITY, Prof. Dr. Ir. Harjanto Prabowo, MM menguraikan bahwa kerjasama pendidikan antara BINUS INTERNATIONAL dengan Northumbria University ini diyakini mampu meningkatkan kualitas program School of Design. Tidak berhenti sampai disitu saja, Prof Harjanto juga optimis bahwa dengan inovasi seperti ini, BINUS INTERNATIONAL senantiasa memberikan sumbangsih pada Industri kreatif berkelas dunia dengan keberadaan potensi anak Indonesia yang dinilai mampu menciptakan beragam design yang kreatif.
"Dukungan kerjasama ini diperkuat oleh hubungan bilateral pemerintah Inggris dan pemerintah Indonesia. Pada tahun 2012 lalu, Presiden Susilo Bambang Yudhoyono bersama Rektor dari berbagai Universitas di Indonesia melakukan studi banding dengan beberapa Universitas di UK guna meningkatkan pendidikan dan kerja sama. Semenjak pertemuan tersebut, BINUS INTERNATIONAL kian termotivasi untuk menciptakan kualitas pendidikan berkelas dunia dalam bentuk kerjasama antara BINUS INTERNATIONAL dengan Northumbria University yang memiliki minat dalam program School of Design," jelas Prof. Harjanto.
Jauh sebelum kerjasama pendidikan program School of Design ini dilakukan, pada tahun 2012 lalu, mahasiswa School of Design dari BINUS INTERNATIONAL dan mahasiswa dari Northumbria University pernah melakukan riset bersama untuk mempelajari kain tenun Lombok. Hasil riset mereka tampilkan pada Jakarta Fashion Week 13.
Kini, dengan kehadiran BINUS Northumbria School of Design (BNSD) tentunya diyakini semakin meningkatkan kualitas program School of Design . Selain itu, pada setiap akhir semester, tim audit dari Northumbria University – Newcastle, Inggris akan datang ke Jakarta untuk memberikan penilaian tugas mahasiswa dan mengadakan workshop serta memberikan masukan kepada dosen untuk pengembangan program. (KF)
Download : Kontribusi BINA NUSANTARA dalam Industri Kreatif berkelas dunia