BINUS UNIVERSITY MENERIMA PENGHARGAAN DARI MICROSOFT INDONESIA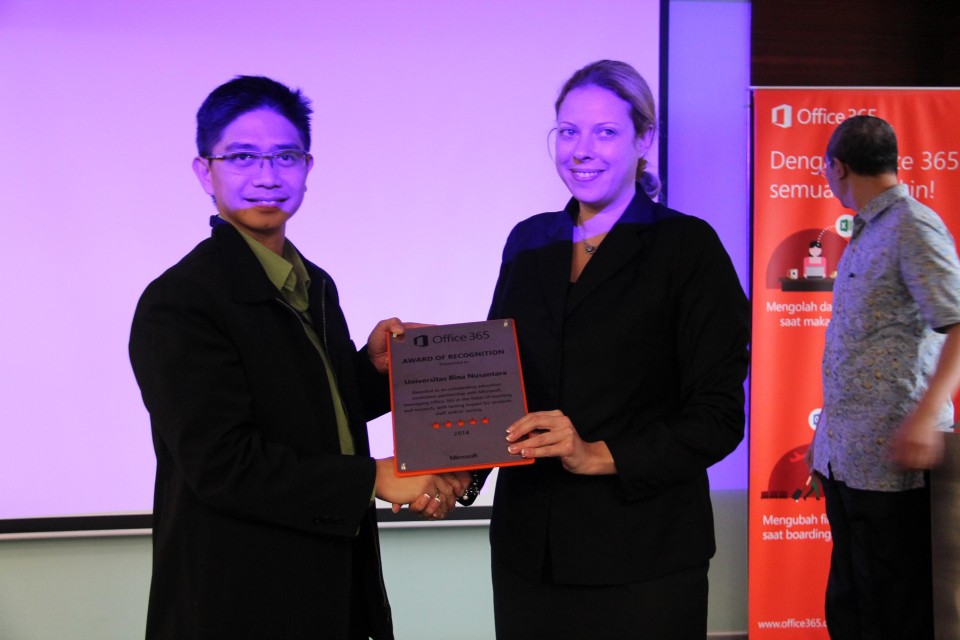 Melihat mobilitas yang tinggi dari lembaga pendidikan saat ini, membuat Microsoft Indonesia terinspirasi untuk menciptakan Office365 for education. Office365 for education merupakan sebuah revolusioner produk dari Microsoft Office yang dapat membantu para pengajar dalam meningkatkan proses belajar di kelas. Salah satu fasilitas yang diberikan dari office365 berfungsi untuk para pengajar yang dapat merekam dalam bentuk suara proses pembelajaran di kelas dan dapat disimpan di situs internal sehingga dapat di akses kembali oleh mahasiswanya. Selain itu juga para mahasiswa dapat melihat, membuka, mengubah dan berbagi dokumen dengan para pengajarnya dan sesama mahasiswa lainnya. Office365 memberikan pengalaman baru dalam meningkatkan efektivitas waktu pembelajaran di kelas, pembelajaran jarak jauh, dan dapat menggunakan papan tulis digital untuk menerangkan ide atau studi kasus.
Untuk memperkenalkan Office365 kepada istitusi pendidikan, Microsoft Indonesia mengundang BINUS UNIVERSITY yang diwakili oleh Johan M. Kerta selaku IT Operations Manager untuk hadir dalam acara Microsoft Education Roudtable yang diadakan pada Selasa (25/03). Acara yang diadakan di Auditorium Microsoft Indonesia ini juga melibatkan beberapa universitas dan sekolah di Jakarta yang dikemas seperti seminar dan dibagi menjadi beberapa sesi. Pada sesi pertama, Microsoft Indonesia membagikan pengetahuan mengenai Extending The Global Skills and Job Market Landscape yang dibawakan oleh Beth Watson selaku Microsoft Asia Pasific Director of Education. Dilanjutkan materi mengenai Extending Today's Technology Curriculum in the Classroom and Online yang dibawakan oleh Suandi Darmawan selaku Technical Evangelist Microsoft Indonesia. Tidak kalah menarik dengan materi selanjutnya yang dibawakan oleh Tony Seno Hartono selaku National Technology Officer Microsoft Indonesia yaitu How Technology has Empowered Learning Experiences.
Pada kesempatan ini, Microsoft Indonesia memberikan penghargaan kepada beberapa universitas dan sekolah yang menggunakan office365 dan juga yang dapat menjadi inspirasi dalam proses pembelajarannya. BINUS UNIVERSITY mendapatkan penghargaan dari Microsoft Indonesia yang terpilih sebagai salah satu universitas yang memberi impact kepada masyarakat melalui pengetahuan dan teknologi.
"Saya mewakili BINUS UNIVERSITY mengucapkan terima kasih kepada Microsoft Indonesia. Ini merupakan sebuah apresiasi dari industri dibidang IT kepada institusi pendidikan untuk meningkatkan pengembangan IT di BINUS UNIVERISTY. Kedepannya kami akan memanfaatkan teknologi-teknologi terbaru dari Microsoft agar dapat meningkatkan value bagi mahasiswa yang selaras dengan tujuan Microsoft sendiri, yaitu employability yang semakin meningkat, tidak kalah dengan lulusan dari luar", ungkap Johan menanggapi penghargaan yang diberikan Microsoft Indonesia. (AL)