Suryo: Mindset is The Strongest Muscle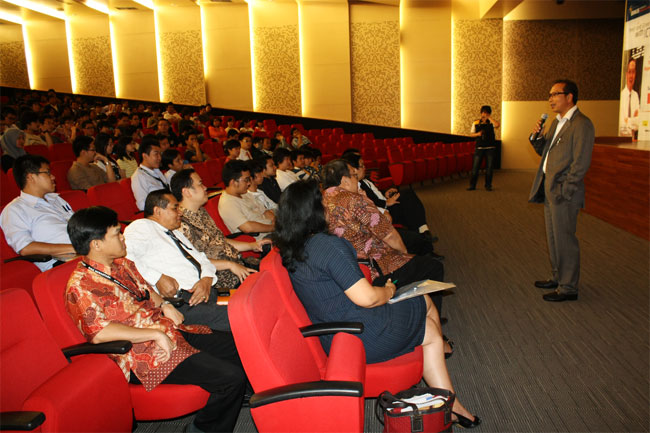 Golden period is becoming shorter. Semakin lama, usia emas dan produktif itu kian memendek. "Seiring dengan perkembangan zaman, orang semakin dipaksa untuk mulai lebih awal, namun lebih cepat mencapai tujuan, dan kompetisi pun semakin berat," kata President Director of International Business Machines (IBM) Indonesia, Suryo Suwignjo.
Imbauan tersebut disampaikan Suryo Suwignjo kepada ratusan mahasiswa dalam acara "Meet and Greet with ICT Leaders" yang digelar BINUS GRADUATE PROGRAM di Auditorium BINUS UNIVERSITY, Kampus Anggrek, Kemanggisan, Jakarta Barat, Selasa (10/4). Dalam acara itu, Suryo mengangkat tema "The Secrets to Build a Bigger and Stronger Muscle."
Dengan cara penyampaian yang santai dan kocak, Suryo mengatakan definisi sukses itu berbeda pada masing-masing orang. "Semua orang memiliki value system yang berbeda. Sebab, value system itu berbeda dan unik. Dari sini, terciptalah mindset. Nah, mindset is the strongest muscle," ujar Suryo.
Apa yang membuat mindset itu kuat? "Coba tengok Walt Disney, pencipta taman hiburan pertama di dunia. Untuk membiayai pembangunan taman hiburan, Walt mencari kredit ke bank. Namun, baru di bank ke-406, dia bisa mendapatkan. Walt memiliki keyakinan atas konsepnya, sehingga dia tidak pernah menyerah," ujar Suryo.
Suryo percaya adanya kekuatan dari keinginan seseorang. Untuk itu, kata Suryo, perlunya bertanya kepada diri sendiri terkait tujuan hidup masing-masing orang. "Sebab, zaman sekarang, banyak yang hidup seperti layang-layang. Mengikuti kemana orang lain pergi alias tidak memiliki pendirian," ungkap Suryo.
Karena itu pula, menurut Suryo, orang tidak boleh menunda kebahagiaan. "Jangan tunda kebahagiaan. Berbahagialah setiap hari, karena bahagia itu lebih penting daripada sebuah kesuksesan. If you want to do it, do it now. For God sake, do it now," tandas Suryo menegaskan kepada mahasiswa.
"Jika tidak setuju dengan omongan saya, kalian boleh berdiskusi ataupun menentangnya sehabis ini. Namun, jangan pernah berhenti untuk mencoba dan membuktikan. Karena itulah, esensi saya berada di sini," ungkap Suryo.
Selain seminar, acara itu juga menghadirkan launching BINUS GRADUATE PROGRAM online. Ini menjadi salah satu fasilitas yang ditawarkan BINUS GRADUATE PROGRAM untuk memudahkan akses mata kuliah kepada mahasiswanya.(RA)