Use BINUSIAN Card Flazz, Win Blackberry and iPad2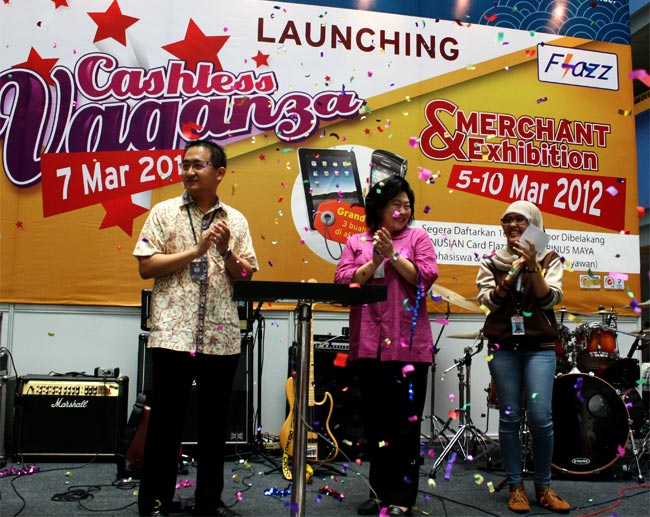 The Cashless Vaganza program was officially launched on Wednesday (7/3). Starting from March to May, 2012, all BINUSIAN on Syahdan, Anggrek, Kijang, Alam Sutera, JWC and BINUS SQUARE campus will have the chance to win five Blackberry and three iPad2.
It's very easy to participate in this program. Simply by doing transactions using BINUSIAN Card Flazz, all the students, staff, lecturers and alumni will have the chance to be "rewarded".
"We are choosing Cashless as a theme, because we have this program where transactions for products or services can be done by discharging the amount of money saved in the Flazz card," explained Project Manager Cashless Vaganza, Hardiansyah.
Cashless Vaganza, explained Hardiansyah, is a promotional program where they give away interesting prizes for BINUSIAN who are actively using their BINUSIAN Card Flazz. "Every month we are giving away five units of Blackberry for five winners. At the end of the program, there will be a grand prize of three units of iPad2," he stressed.
The drawing is based on points gained by BINUSIAN each time they are doing transactions. From each transaction with a minimum spending of Rp 10,000, BINUSIAN will obtain a point. These points will be accumulated.
The program is the result of a collaboration of BINUS UNIVERSITY with Bank Central Asia. This program is also the first of its kind. "Of course, with this program we are hoping to create a cashless society in BINUS and reinforcing the vision to be A world-class Knowledge Institution, in Continuous pursuit of Innovation and enterprise" Hardiansyah said. (YD)