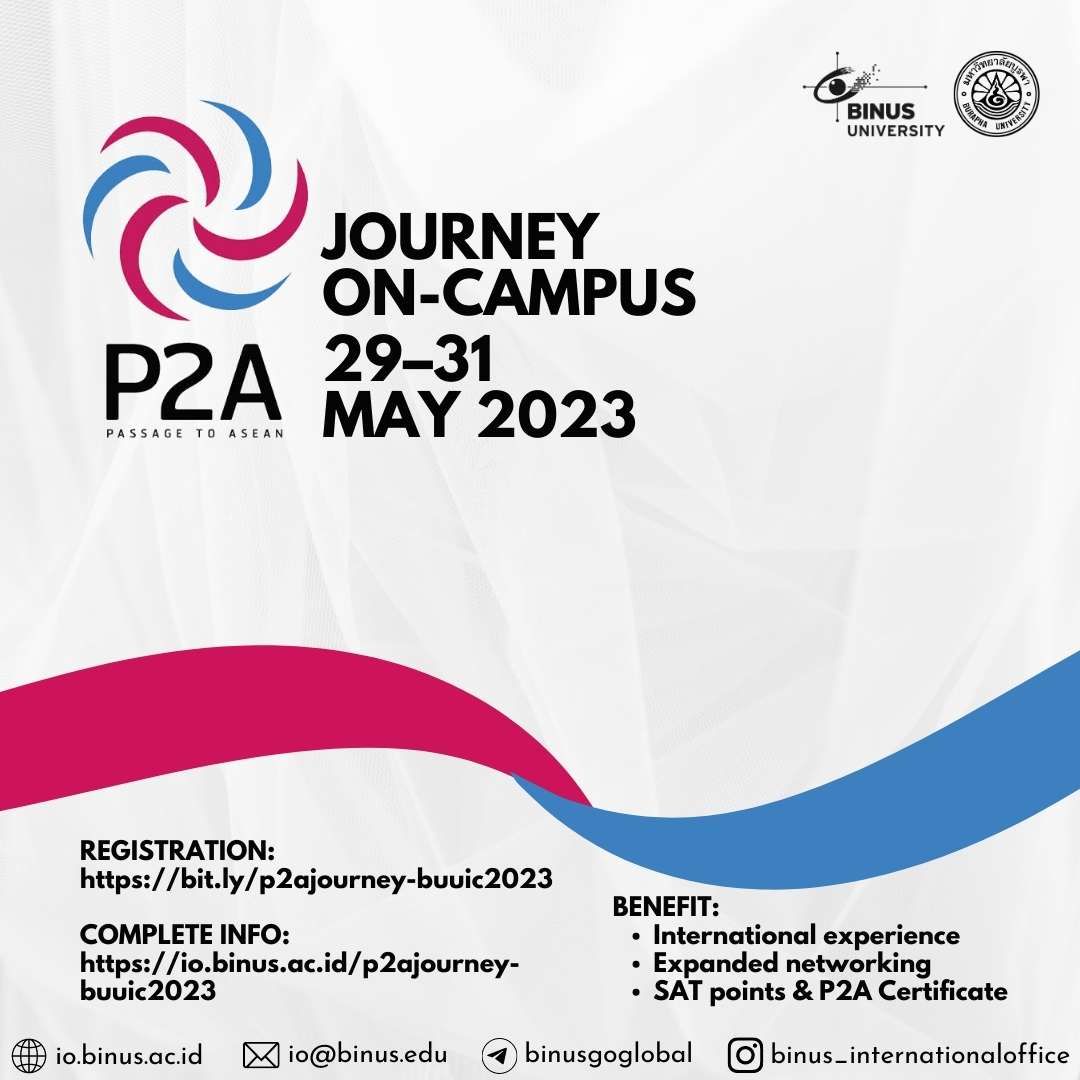 BINUS University is inviting BINUS students to participate in the P2A Journey On-Campus with Burapha University International College, Thailand, from 29 to 31 May. During the program, BINUS students will work closely and intensively with Thai students on current issues related to tourism development in Indonesia and Thailand.
THEME
Indonesia VS Thailand: Tourism Development After the Pandemic
PROGRAM FEE
Free (seats only available for 10 selected BINUS students)
BENEFIT
International experience
Networking
SAT points & P2A Certificate of Participation
PROGRAM DATES
29–31 May 2023 #onsite at Kemanggisan Campus
PROGRAM SCHEDULE
DAY
TIME
ACTIVITY
Sunday, 28 May
Afternoon
Arrival of Thai delegation in Jakarta
Monday, 29 May
09:15–10:00
Opening & Campus Tour
10:00–11:00
Group Activity "Surviving Jakarta: Bahasa Indonesia for Dummies"
11:00–12:30
Talk Show "Comparison on Tourism Development: Indonesia VS Thailand"
13:30–14:30
Journalist Assignment (creating 30-second video)
14:30–16:00
Group Discussion on Project Presentation "Rebuilding Tourism for the Future"
Tuesday, 30 May
09:15–12:00
Project Presentation Preparation
13:00–15:00
Project Presentation (creating 5-minute video)
Wednesday, 31 May
08:00–13:00
Cultural Trip at Kota Tua | Closing & Farewell
Thursday, 1 June
Afternoon
Departure of Thai delegation from Jakarta
HOW TO APPLY
Please make sure that you:
Are highly motivated, assertive, and open-minded;
Are registered as an active student at BINUS University;
Has a good command of English language;
Are committed to joining all sessions and actively participating in all activities.
Registration: https://bit.ly/p2ajourney-buuic2023 before 27 May 2023.
Further info and enquiries:
Mr. Mario (romario@binus.edu)
... ... ...