RANCANG BANGUN DAN ANALISIS ALGORITMA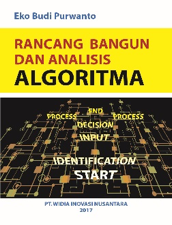 Buku ini diperuntukan bagi mahasiswa/mahasiswi dan umum yang ingin belajar perancangan dan analisis algoritma. Untuk mempermudah pemahaman, pembahasan tiap bab mencakup konsep dasar, simulasi dan contoh program (code) menggunakan Bahasa pemrograman C++
Buku ini terdiri atas 11 bab terbagi dalam 5 bagian. Bagian 1 Kompleksitas Waktu Algoritma dan Induksi Matematik, dari bagian ini pembaca bisa memahami tentang komplesitas waktu dan cara menghitungnya, serta dapat memahami algoritma-algoritma untuk penyelesaian persamaan linier.
Bagian 2 Algoritma Devide and Conquer yang membahas tentang beberapa algoritma pengurutan (sorting), algoritma pencarian (searching) data, dan algoritma-algoritma pencarian akar karakteristik untuk permasalahan metoda numerik seperti, bisection, regulafalsi, Newton Raphson dan Secant.
Bagian 3 Pemrograman Dinamik dan Optimasi Coding yang membahas algoritma Greedy, knapsack problem, algoritma Kruskals, Prims dan Dijkstras. Pada pemrograman dinamik disajikan stack, queue, multistage graph, yang dilengkapi dengan basic traversal, code optimization, Huffman code.
Bagian 4 Algoritma dalam Permainan membahas algoritma branch and bound untuk permasalahan traveling salesman problem (tsp), simulasi penempatan ratu, puzzle dan Sudoku. Dilengkapi dengan algoritma linier waktu yang meliputi coin change, deret Fibonacci, ekspedisi Euler dan simulasi menara Hanoi.
Bagian 5 Menyajikan 21 contoh soal-soal ujian yang dilengkapi dengan penyelesaiannya. Sehingga para pembaca dan mahasiswa/mahasiswi mudah memahami konsep algoritma dan bisa menerapkannya dalam simulasi. Dengan cara demikian diharapkan para mahasiswa/mahasiswi terpacu belajar dan tidak takut pada mata kuliah algoritma dan pemrograman. Disamping itu para mahasiswa/mahasiswi akan dapat menemukan judul untuk proyek tugas akhir (skripsi).