DRM BOOK SERIES : SUSTAINING ORGANIZATIONAL PERFORMANCE WITH ORGANIZATIONAL AMBIDEXTERITY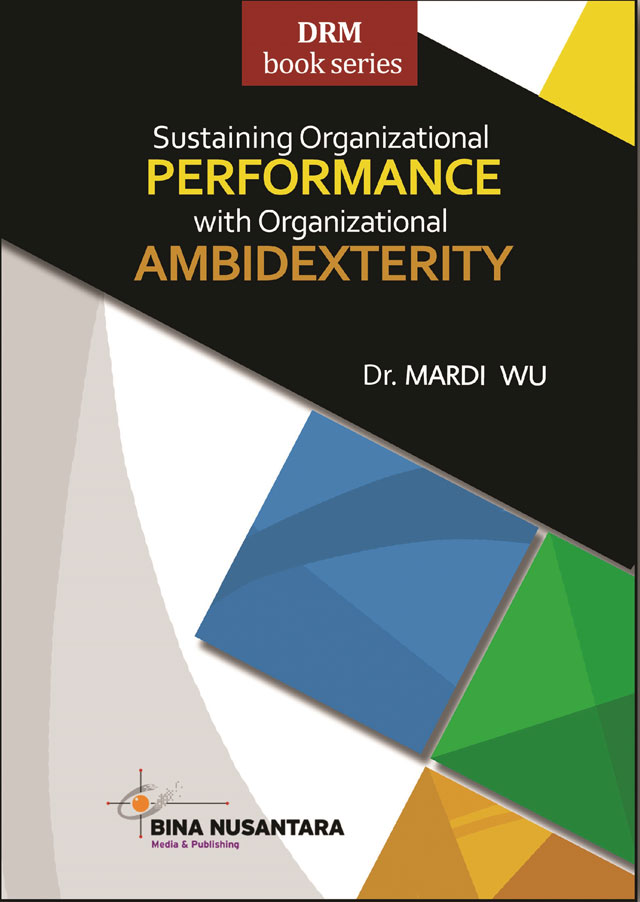 This book discusses the importance of organizational ambidexterity: the balance of exploitation (efficiency) and exploration (innovation) activities towards organizational performance, especially in the emergence of social technology. Previous literatures have not reached a robust conclusion on the importance of ambidexterity towards organizational performance. Controversies are still found in previous literatures that support the importance of ambidexterity versus that support focus on exploitation or exploration to sustain performance. Furthermore, there is not many previous researches studied on the effect of social technology adoption towards ambidexterity, especially using quantitative method or even mixed methods. Based on Resource-Based View, Dynamic Capabilities, Organizational Learning, and ICT-enabled Transformation, it was investigated the effect of  organizational ambidexterity towards organizational performance. It was also inverstigated the effect of social technology adoption, rapid absorptive capacity, and collectivism-based collaboration towards organizational ambidexterity. Quantitative session was conducted to 182 organizations that use social technology in various sectors in Indonesia. Data were processed by Structural Equation Modeling (SEM). To gain more insights, qualitative session was conducted by interviewing top managements of 6 organizations chosen from previous samples.
Result show that ambidexterity positively affects organizational performance. It also shows that social technology adoption positively affects ambidexterity directly and through rapid absorptive capacity. However, the hypothesis social technology adoption will positively affect ambidexterity through collectivism-based collaboration is not supported. Insight from qualitative session indicates the importance of embedded innovation enabled by social technology adoption in building ambidexterity. Furthermore, in qualitative session it is also found the specific pattern of temporal ambidexterity along the organizational life cycle. This knowledge is beneficial for top management to drive the organization to a right balance in each phase through the right strategic initiatives. It is also beneficial for public institutions (government or universities) and for supporting business organizations (consultants or social business organizations) to play a suitable role in each stage along the organizational life cycle.