BSSC Workshop "Know Your Selling Points for Networking"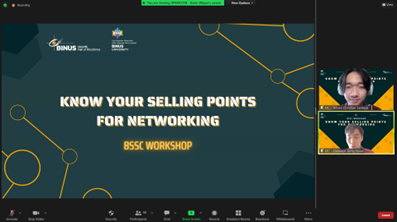 BSSC Workshop "Know Your Selling Points for Networking" is an external event for boarders and Binusian to improve their networking. The event was successfully held on Friday, 20th May 2022, and was attended by 63 participants. We learned how to know our selling points and use them to increase our networking through this event. We also learned about the benefits of networking with the experience of the speaker.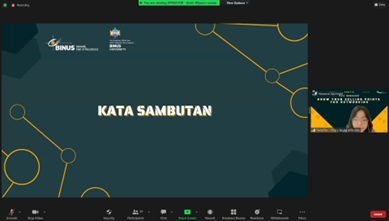 The event started with the opening speech by Tifara Beata Wibowo as the Project Manager of BSSC Workshop "Know Your Selling Points for Networking." After the opening speech, we had ice-breaking. During the ice-breaking, we played Quizizz. The questions are unique and very creative. Therefore, the participants looked enjoyed the ice-breaking.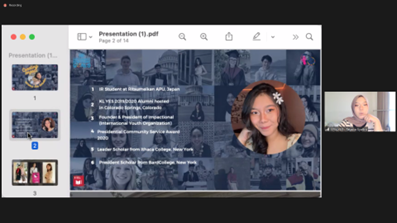 The speaker in this event is an amazing speaker from Impactional named Syafira Fitri Annisa. She is the founder and the president of Impactional. She talked about her own life experience like her passion in debate, organization, etc. From her passion, she made them into the selling point as her personal brand and provide her to make networking in her life. Because of the networking she has, she is able to connect with Stanford University's professor. The amazing thing about networking is it will make something impossible become possible to do.
Next, she taught us that networking is finding our passion. Knowing about our passion will make life easier because we know what we will do next and success will follow our path. The most important thing is to start right now to build the selling points.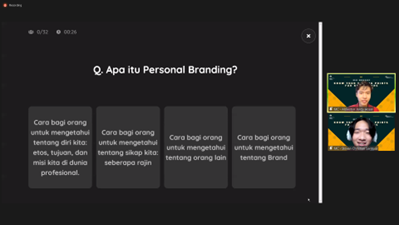 After the presentation, we had a post-test using Quizizz. The questions in the post-test were about reviewing the presentation before. The prize is an e-wallet for three winners. The participants were very enthusiastic about the post-test and most of them were correct.
This is a workshop, so we have a task for the participants to do by giving them questions about their strengths and weaknesses, managing their weaknesses, and ways to socialize with people. Three participants willingly presented their tasks and they got feedback from the speaker.
We ended this event with documentation with the amazing speaker. Then, the MC closed the event with all the participants submitted their tasks and their exit ticket forms.