Anggrek Campus Facilities

Anggrek Campus has 95 classrooms, each equipped with LCD projector, whiteboard and air-conditioning, as well as computers and internet access.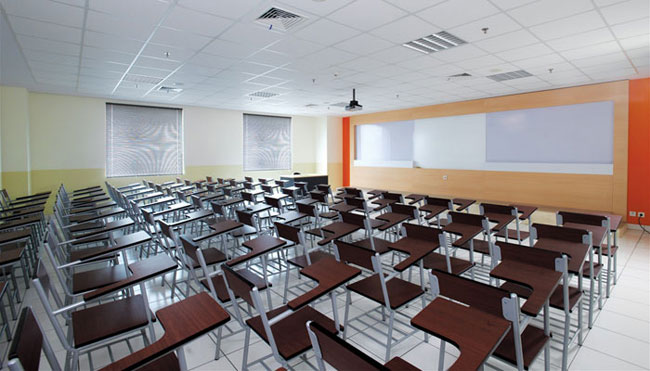 Library
The BINUS Library and Knowledge Center (LKC) functions as an information, research, documentation, and publication center to support current and future learning, research, and civil service facilities. Users get quick, appropriate, and easy services either by on-site service or via the Internet. Wi-fi is installed in all reading rooms.
BINUS LKC is automated and integrated with a learning process called Multi Channel Learning (MCL). LKC services three locations. The 1400-square meter library on the Anggrek campus functions as a center, supported by the 286-square meter Joseph Wibowo Center (JWC) library located at Jl. Hang Lekir I No. 6 and the 135-square meter Kijang Campus at Jl. Kemanggisan Ilir III No. 45.
Visit the library website for detail information.

Auditorium
The auditorium has the newest range of facilities in BINUS UNIVERSITY. It has 600 seats and occupies an area of 482 square meters, with 200 square meters of pre-function area and corridor. This auditorium is equipped with advanced facilities including stage, changing room plus back stage, theatre-styled seating, LCD projector, and state-of-the-art sound system.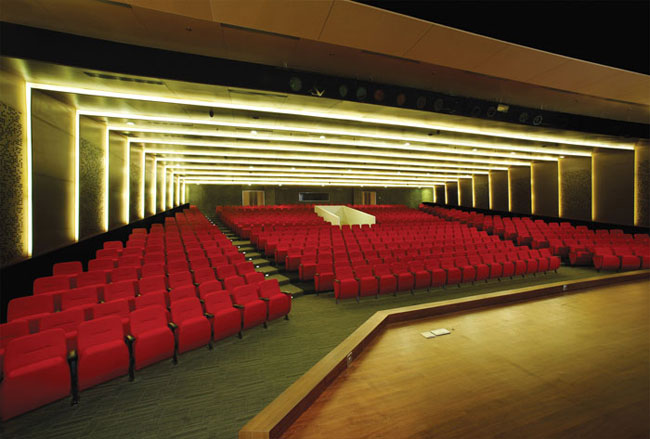 Language Laboratory
Learning foreign language in the language laboratory BINUS UNIVERSITY is an exciting experience because this laboratory was created for learning and training that equipped with state-of-the art technology in foreign language learning. Located in the 6th floor Anggrek campus, this laboratory can accommodate no less than 150 students divided in 4 separated laboratories. The computers inside these laboratories are equipped with special software that help users in learning English, Japanese and Chinese. Exciting features in this laboratory is the application of voice recognition technology for learners who wants to train their pronunciation and speaking skills independently without the needs of instructors or native speakers.

Information Kiosk
The Information Kiosk provides information relating to students' study activities, including class schedules, academic performances, fees, announcements, and so on. The kiosk is can be accessed at any time from computers provided on Anggrek Campus, located on each floor of the building.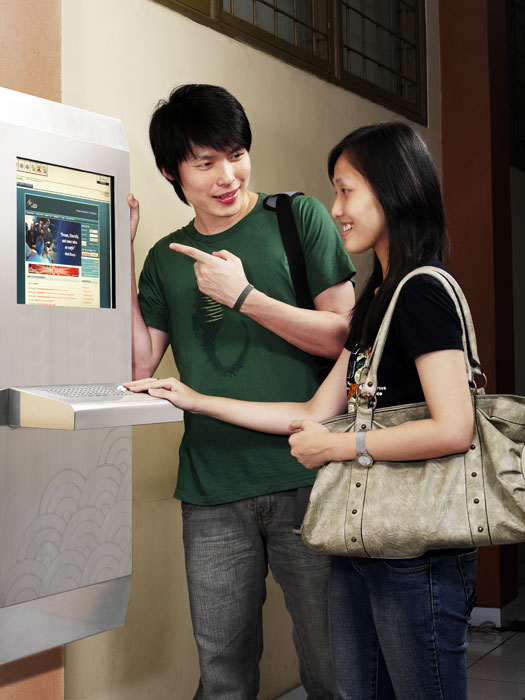 A 4 x 2-meter television located in Anggrek Campus food court provides information and videos produced by BINUS students. As well as enjoying the TV programs in the food court itself, BINUSIANs can access them via BINUS@ccess (IP TV).

College students need reference books. BINUS UNIVERSITY provides a bookstore and co-op store on Anggrek Campus. Located in the campus basement, the store stocks a number of reference books, A more complete selection is available at the bookstore, located in the food court area on the first floor. In addition, news stands are located throughout BINUS campuses to help students find the right books at affordable prices, as well as magazines, newspapers, and tabloids.

Copy Center
Anggrek Campus provides a copy center facility, located in the campus basement, to serve office employees, students, and lecturers. The copy center contains photocopy, binding, scanning, and printing services. It is open from 8 a.m. to 7 p.m.

Food Court
Located on the first floor of Anggrek Campus, the food court boasts a variety of Indonesian food and beverages at reasonable prices. A wider selection of traditional Indonesian, Chinese, Japanese and Korean cuisines is available at dining outlets around the campus. Prices start from around Rp 6000 per meal.

Musholla
Anggrek Campus provides a Moslem prayer room (mushola) at the motorbike parking area behind the campus building.

BINUS UNIVERSITY offers banking support to students. A branch office of Bank Central Asia (BCA), the preferred national bank, is located on Anggrek Campus, and can assist BINUSIANs with their banking transactions.
BCA ATMs are also located on almost all BINUS campuses.

Anggrek Campus has five BCA ATMs, three multi-function and two for cash deposits, for the use of students and all building users. These are located on the first floor next to the Library Room and are open from 7 a.m. to 10 p.m.

Free wireless internet is available throughout the campus. Anggrek Campus has hot spots in the food court area (around BCA Bank and the soft drinks stand). Each floor of the campus building has two hot-spot points.

Coin-operated public phone booths are located in the food court area next to the elevator. There are also a number of wartel (telephone offices) outside campus that provide shared public phone booths and fax service for local, national and international use.

Many students bring their own vehicles to campus nowadays. However, finding a safe place to park can often be a problem. At BINUS, there is no need to worry.
Car-only parking lots in Anggrek Campus basement plus the parking area in front of the campus building can accommodate up to 450 cars. A separate motorbike parking area behind the campus can accommodate 1500 bikes.
The parking fee for cars is Rp 2000 for the first five hours and an additional Rp 1000 for each hour thereafter. In The Joseph Wibowo Center, the parking fee for cars is Rp 5000 for the first five hours and an additional Rp 5000 for each hour thereafter.
Parking stickers are also available for lecturers and employees.

BINUS campuses provide round-the-clock security service with 5-8 patrolling guards on each campus in two different shifts. The security guards are assigned to several places such as parking lots, lobbies, and office areas as well as inside the campus buildings.