HIMTI Study Tour – HIESTA 2013
HIMTI (Himpunan Mahasiswa Teknik Informatika) mengadakan event HIESTA (HIMTI Seminar Workshop and Study Tour Alam Sutera) yang bertema "BEAT (Be Experienced in Advanced Technology). Dalam acara ini selain Seminar dan Workshop, tersedia acara Study Tour Luar Negeri ke Singapore.
Pada tanggal 2 September 2013 para peserta HIESTA 2013 yang mengikuti kegiatan Study Tour Luar Negeri berkumpul di terminal 2D pada pukul 07.00 WIB di Bandara Soekarno-Hatta. Pada waktu yang sama para peserta bertemu dengan pemandu wisata yang akan menemani mereka selama perjalanan Study Tour Luar Negeri tersebut.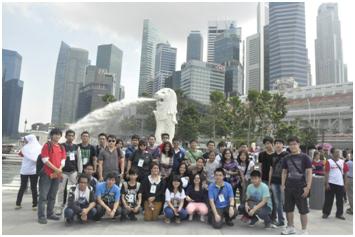 Para peserta pun tinggal landas pada pukul 9.45 Waktu Indonesia bagian Barat. Perjalanan menghabiskan waktu 1 jam 30 menit dan sesampainya di sana, para peserta disambut oleh Bless Tour, tour guide lokal yang akan memandu mereka selama di Singapore.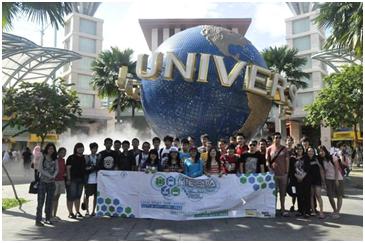 Perjalanan pun dilanjutkan dengan kegiatan pertama yang dijadwalkan pada pukul 1 siang waktu Singapore, yaitu kunjungan ke Merlion Park. Para peserta Study Tour diberikan waktu untuk mengambil foto di sekitar daerah patung yang menjadi obyek wisata yang wajib dikunjungi tersebut. Seusai berfoto, para peserta Study Tour melanjutkan jadwal mereka dengan melakukan kunjungan ke Chocolate Factory yang kemudian dilanjutkan dengan City Tour di daerah Bugis, Orchard.
Tour berakhir pada pukul 6 sore dan para peserta dihantar ke tempat dimana para peserta menginap, Loft Inn. Loft Inn sendiri bertempat di daerah Little India. Tour hari pertama pun selesai.
Pada hari ke dua, para peserta menghabiskan waktu mereka di Universal Studio mulai dari pukul 09.15 hingga 17.00 waktu setempat. Seusainya bersenang-senang di Universal Studio, para peserta dihantar ke penginapan. Dan para peserta memutuskan untuk pergi ke china town seusai kegiatan tour pada hari tersebut.
Kunjungan ke IBM Singapore, itulah kegiatan pertama setelah makan pagi yang peserta lakukan pada Study Tour hari ke 3. Peserta berkumpul pada pukul 08.30 waktu setempat dan langsung menuju ke IBM Singapore. Sesampainya di sana, para peserta  diajak untuk melihat data center yang mereka miliki, tata cara menjaga suhu hardware penyimpanan data, dan urutan tata cara membuat hardware data.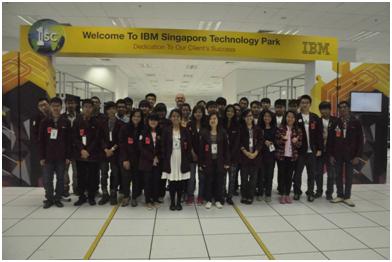 kunjungan ke IBM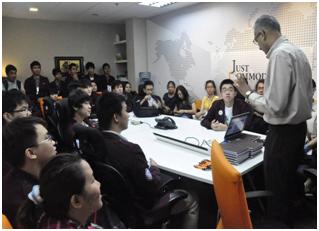 para peserta sedang berkunjung ke Just Commodity
Setelah kunjungan di IBM Singapore selesai, para peserta melakukan kunjunga ke Garden by The Bay. Garden by The Bay merupakan tempat wisata dimana para pengunjung dapat melihat pohon-pohon yang menjulang tinggi di daerah tersebut, yang biasa disebut sebagai Super Tree.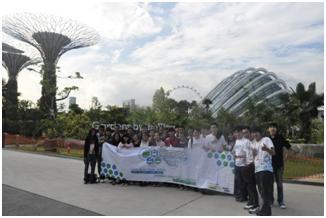 Seusai kunjungan di Garden by The Bay, para peserta melanjutkan Study Tour dengan melakukan kunjungan ke Just Commodity. Di sana para peserta mendapat banyak pengetahuan mengenai perusahaan Just Commodity, yang merupakan perusahaan yang bergerak di bidang service dan software solution. Kemudian kegiatan Study Tour dilanjutkan dengan sharing dari para alumni Binus yang bekerja di perusahaan tersebut. Seusai kunjungan di Just Commodity, para peserta kembali dihantar ke penginapan.
Hari ke empat merupakan hari terakhir dari kegiatan Study Tour HIESTA 2013, para peserta dihantar ke Changi Airport dan sampai di Indonesia pada pukul 16.00 waktu Indonesia bagian Barat.
Regards,
HIMTI